Is a Swamp Cooler Right for You?
Cooling system are integral to most buildings, especially those in areas that experience warm temperatures during the summer. Air conditioning is one option, but a powerful alternative in areas with low humidity is evaporative cooling. In these drier areas, swamp coolers (also known as evaporative coolers) can be an energy-efficient way to cool the rooms. Swamp coolers pass air through water-saturated pads, bringing down the temperature and adding moisture to the environment.
Before you buy a swamp cooler, though, you should understand how they work. Not everyone can use a swamp cooler, but they can be a great way to beat the heat during summer months. Here are a few things to consider:
Where You Live
Location has one of the biggest impacts on the usability of swamp coolers. While swamp coolers can be a healthier and more environmentally friendly choice, they aren't suited to every area. Because of the evaporative process used, swamp coolers can only be used in climates with low humidity, specifically areas with low wet-bulb temperatures. Areas that experience high levels of humidity aren't good candidates for swamp coolers, while drier areas like California, Utah, and Colorado are much better suited to these devices.
Use the following map as a reference in North America: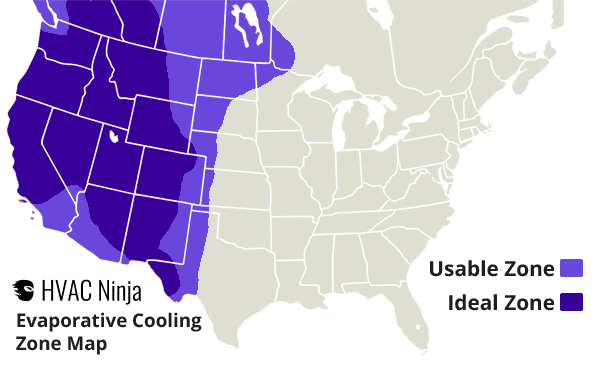 Which Rooms the Swamp Cooler Will Cool
Potential swamp cooler owners should also consider which rooms need to be cooled, their size, and how much ventilation is available. Just like regular air conditioners, evaporative coolers have a certain capacity at which they are able to cool efficiently. They also require ventilation since recirculating humid air decreases effectiveness.
There are two main types of swamp coolers that are generally offered, these are residential coolers and industrial coolers. As their names suggest, residential coolers tend to be sufficient for homes and individual rooms and can be used throughout the home. Industrial grade swamp coolers, on the other hand, have an incredibly large capacity and can cool homes.
How to Properly Maintain a Swamp Cooler
Before choosing a swamp cooler, it's important to know what you're in for when it comes to maintenance. These appliances use less energy but require more upkeep than a regular air conditioner. Swamp coolers are best used only when necessary. Proper cleaning of a swamp cooler is also essential for anyone who wants to take care of it efficiently and prolong its lifespan.
Generally, a swamp cooler needs cleaning once every two to three weeks, but this amount can vary depending on the amount of usage that it incurs. Swamp cooler pads also need to be changed out seasonally. Each cooler may be a bit different, so be sure to follow any manufacturer instructions on operating and cleaning the product to keep it in good working condition.
Conclusion
Swamp cooler can be extremely useful for anyone wanting an efficient method of cooling their homes. If you're looking for an alternative to air conditioning, consider cooling down with a swamp cooler.
If you're looking for the best swamp coolers, check out our guide.
Still have questions? Ask an HVAC expert directly via chat or phone.
Published on 2018-11-12 by Ben Travis
Last updated on 2021-02-27
---
Recommended Reading