Want to Improve Your Bathroom? Here are 4 Excellent Tips
Is your bathroom starting to feel a little dated? Are you looking for ways to improve it without spending too much money? If so, you're in luck! Here are four easy tips to help you quickly improve your bathroom. So please read on for some simple advice on making your bathroom look its best.
1. Get Rid of Any Clutter
The first step to improving your bathroom is to eliminate any clutter that might be taking up space. If you have any extra towels or toiletries, consider storing them elsewhere so that your bathroom looks more spacious and inviting. In addition, be sure to put away any cleaning supplies that you don't need daily.
You'll create a more relaxing and enjoyable space by decluttering your bathroom. Plus, it will be much easier to keep your bathroom clean when there's less stuff. If you're unsure where to start, try taking everything out of your bathroom and only putting back the essentials. You might be surprised at how much better your bathroom looks without all the extra stuff.
Don't forget to declutter under your sink too. It is a common problem area for many people, so be sure to include it as part of your decluttering efforts. Under the sink, you'll often find cleaning supplies, spare toiletries, and other items that can be stored elsewhere. Getting rid of the clutter under your sink will free up valuable space and make your bathroom look much neater.
2. Add Accessories
No bathroom is complete without a few key accessories. These can include paper towel dispensers, soap dispensers, toilet paper dispensers, towel racks, etc. According to the team behind Fast Accessories, adding a few well-chosen accessories can make your bathroom more functional and stylish. Be sure to choose accessories that complement the overall style of your bathroom.
For example, if you have a modern bathroom, you might want to choose sleek and minimalistic accessories. Or, if you have a traditional bathroom, you might want to opt for more classic-looking items.
In addition to functional items, you can also add some decorative accessories to your bathroom. That could include candles, vases, paintings, or anything else that you think would look nice in your bathroom. Just be sure not to go overboard with the decorations. A few well-placed items will suffice.
Don't forget that adding a bathroom mirror is a great way to improve your bathroom ambience. Not only does a mirror add functionality, but it can also be a decorative addition. A large mirror makes the bathroom appear roomy and can help give a small bathroom a little extra something.
3. Paint Your Bathroom
One of the quickest and easiest ways to improve your bathroom is to give it a fresh coat of paint. It will brighten up the space and make it feel more inviting. When choosing a paint color, be sure to consider the overall style of your bathroom. For example, if you have a small bathroom, you might want to choose a light color to make the space feel bigger. Or, if you have a large bathroom, you might want to choose a darker color to create a more intimate feeling.
Whatever color you choose, paint the entire bathroom, including the ceiling, walls, trim, and doors. It will give your bathroom an updated look that's sure to impress. If you're not confident in painting a bathroom yourself, you can always hire a professional to do it for you. Paint is one of the easiest and most budget-friendly ways to improve your bathroom, so don't hesitate to give it a try, and dont' forget the painters tape!
4. Update Your Fixtures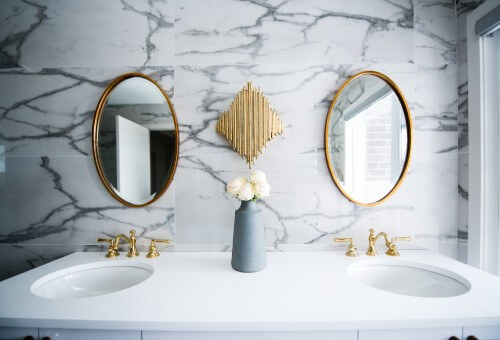 Of course, you can't have a functional and stylish bathroom without the right fixtures, including items like your sink, toilet, bathtub, shower, etc. If your fixtures are old or worn, they can make your whole bathroom look dated. Fortunately, there are plenty of ways to update your fixtures without breaking the bank.
When shopping for new fixtures, compare prices and find the best deals. You can often find great deals on fixtures by shopping online or at home improvement stores. Just be sure to measure your bathroom before you buy anything to know it will fit properly.
Select fixtures that are high quality and durable. It is essential that bathroom furnitures can handle added use and humidity, as these fixtures are often subject to more wear and tear than other items in your home. By choosing durable fixtures, you can be sure that they'll last for many years.
Improving your bathroom doesn't have to be complicated or overly time-consuming. Fortunately, there's a range of different ways to make your bathroom more stylish and functional. By following the right plan and using a little elbow grease, you can quickly breath new life into your bathroom.
Still have questions? Ask an HVAC expert directly via chat or phone.
Published on 2022-04-08 by HVAC Ninja Team
Last updated on 2022-04-08
---
Recommended Reading