State of Consumer HVAC 2019
Modern HVAC consumers are more savvy than ever before and have a wide range of choices when it comes to systems, equipment, and maintenance. The goal of this report is to better understand the consumer HVAC landscape, mindset, and behavior. You'll be surprised to learn about consumer approaches to HVAC issues, concerns when hiring professionals, popular heating/cooling setups, and purchase considerations. Continue reading or download the infographic for more information.

Approach to HVAC and concerns
We found that the most common consumer approach to fixing an HVAC issue is to find professionals online (30.9%). Consumers rely on the internet to provide accurate information and reviews on local HVAC companies and professionals. Nearly as many people indicated that they prefer to either fix it themselves, have a family member/friend do it, or call a trusted serviceperson, indicating that strong networks are useful in building out a reliable HVAC client base. 20.1% of respondents shared that they would call their landlord, pointing to the value of relationships with property managers.
When hiring HVAC professionals, 36.5% of consumers noted that cost was a concern. Many also indicated fear of being "ripped off" or deceived when dealing with HVAC issues, highlighting the need for honesty and trust when dealing with people. People were also wary of inexperienced workers, wanting a job done right the first time.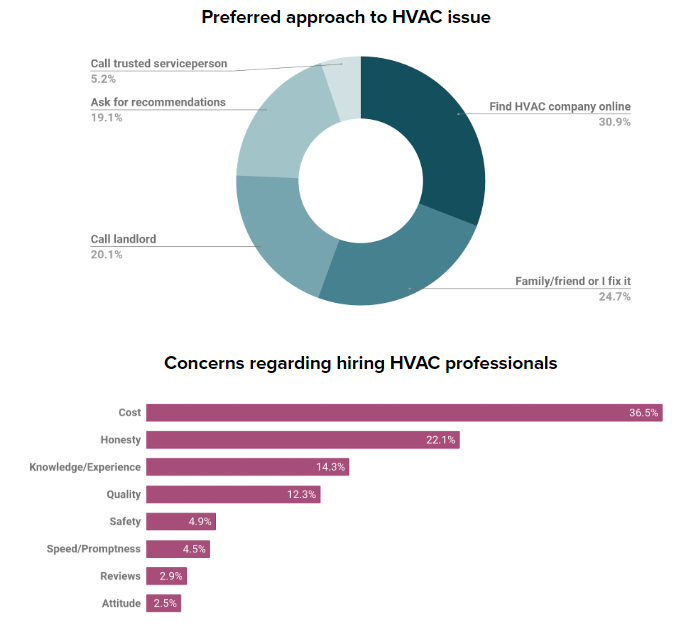 HVAC setups
Unsurprisingly, central heating and cooling are the most common primary HVAC systems.
When it comes to primary heating, the next most-popular setups after central heating (49.7%) included heat pumps (20.1%), space heaters (11.1%), and boiler systems (9.0%). Fireplaces and wood stoves were not often used as primary home heating systems, though most homes did have fireplaces. Those with fireplaces (61.1%) were most likely to have a wood fireplace, followed by gas and electric models.
As for primary cooling, after central cooling AC (63.2%), popular setups included window AC units (12.8%), heat pumps (7.6%), and portable AC units (5.9%). Split ductless units and evaporative coolers came in at less than 5% each.
While central air was used by most homes, over a third of central air users change their air filters every 6 months or less often, showing the need for better HVAC system maintenance.
Smart thermostats have made their way into 19.8% of homes now, though a majority (58.0%) still rely on programmable thermostats. 20.5% of respondents used non-programmable thermostats, and only 1.7% indicated having no thermostat.
Many confirmed owning other HVAC appliances. Humidifiers were owned by 59.7% of people, portable fans were owned by 80.9%, air purifiers were owned by 43.8%, and space heaters were owned by 61.1%.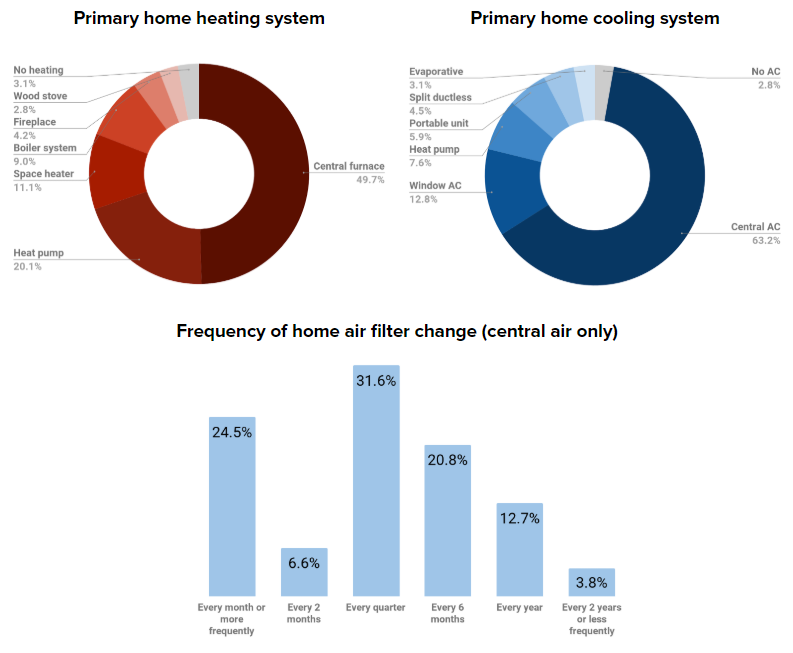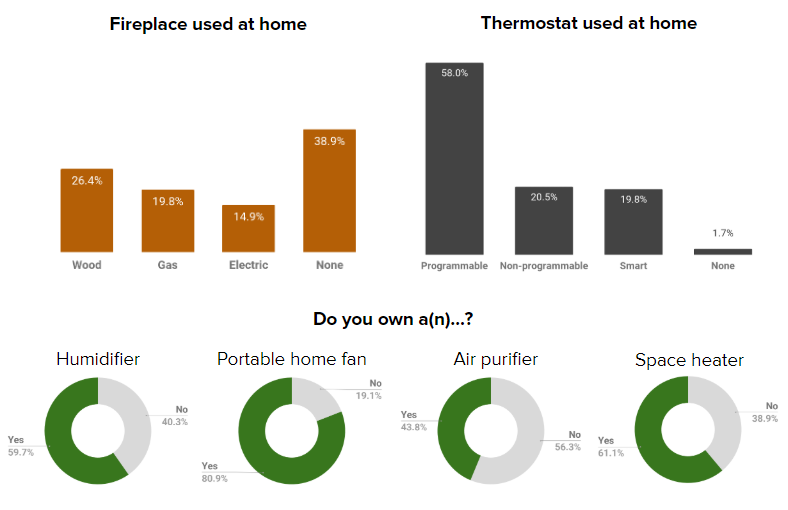 HVAC purchases
When buying an HVAC system, consumers gravitated towards affordability as the most important component of their decision, whether that was to lower energy bills (34.5%) or the initial purchase cost (33.2%). 15.3% of consumers mentioned system maintainability as a top factor, and 10.9% chose safety. Only 6.1% of consumers pointed to environmental impact as the most important factor when buying an HVAC system. When asked which HVAC-related brands they respected, consumers identified Trane, Carrier, and Lennox as their top 3 picks.

Research details
The State of Consumer HVAC 2019 report was created to better understand the modern consumer HVAC landscape, mindset, and behavior. Research was compiled by surveying 288 adults across the United States and Canada.
Below is an infographic with key research data.

Download the infographic as a PDF here.
For more information regarding this research, feel free to contact us.
Still have questions? Ask an HVAC expert directly via chat or phone.
Published on 2019-03-14 by Ben Travis
Last updated on 2020-12-13
---
Recommended Reading