Top Ductless Mini Split Cooling and Heating Systems | Buying Guide
In older buildings or new additions, it can be difficult to upgrade to central air conditioning or central heating. In fact, for some homes, it's just not possible due to space limitations. Ductless mini split systems are a fantastic alternative solution since they don't require full-sized air ducts to function.
Ductless mini split systems use an individual fan and evaporator, allowing users to have room-by-room control of the temperature indoors. If you want to learn even more, we wrote a whole article on the advantages of ductless HVAC systems.
If you've already decided you're ready to jump in, here are the top ductless mini split systems that we recommend!

This 4-in-1 mini split air conditioner has built-in air conditioning, a heat pump, a dehumidifier, and a fan and turbo function. It's energy efficient and has a quiet operation, which means that it'll be less likely to distract you while it's running.
It's simple to install in almost any home and can function well in almost any room. This product is ideal for heating and cooling rooms up to 450 square feet.
Keep in mind that you may need additional HVAC tools such as a copper line cutter and copper line flare tools for installation. The product also has a washable and replaceable filter for easy maintenance. Senville offers a 5-year warranty for the compressor and a 2-year warranty for the parts.
Learn more about the Senville SENL-09CD Mini Split Air Conditioner Heat Pump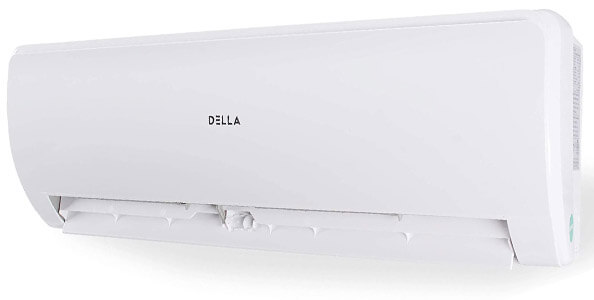 Della's mini split system comes with smart sensors and operations that provide numerous helpful features. These include a 24-hour timer, sleep mode, eco energy saving mode, multiple fan speeds, and auto-defrost. The operation of the system is also pretty quiet (30-41 decibels).
This system can heat and cool areas up to 750 square feet and can work in temperatures as low as -4 degrees Fahrenheit. Additionally, it comes with a full installation kit, and the product is AHRI certified.
The AHRI certification means that it was evaluated and concluded to perform according to the published claims of the manufacturer. Be sure all fittings are tight to prevent any leaking.
Learn more about the Della 12000 BTU Mini Split Air Conditioner and Heat Pump

This version of Senville's mini split system works well by providing heating and cooling for larger rooms. While the SENL-18CD is more expensive than the SENL-09CD we covered earlier, it can work effectively in rooms as large as 1,100 square feet.
Similar to the SENL-09CD, it's easy to install, has a quiet operation, and comes with a dehumidifier. And if you want a thermostat connected to your mini split system, Senville has one that will connect to it.
Be mindful that only their thermostat can connect to it and other third-party thermostats may not be able to. While instructions are provided, they may be a bit too general for novices.
Learn more about the Senville SENL-18CD Mini Split Air Conditioner Heat Pump (18,000 BTU)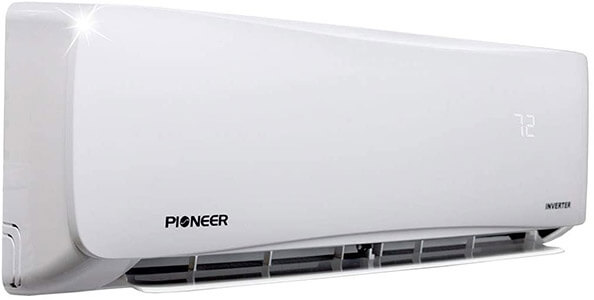 This Pioneer mini split system features a cooling capacity of 12,000 BTUs and a heating capacity of 11,800 BTUs, great for medium-sized rooms. Learn about optimal BTUs with our heating BTU Calculator and cooling BTU calculator.
The controller allows you to select between the four operation modes of heating, cooling, ventilation and dehumidification. This Pioneer mini split also features a handy timer function. The product comes with standard installation accessories and a wireless remote control.
In addition, there's a night mode function which adjusts the temperature settings to accommodate changing body temperature levels that occur at night.
Be aware that this product is best-suited for mild weather.
Learn more about the PIONEER Air Conditioner Pioneer Mini Split Heat Pump Minisplit Heatpump (12,000 BTU)
Find the Right Mini Split System for You
Mini split systems can be an effective solution if it's too difficult to insert a central AC system in your living space. You also gain the flexibility of being able to set individual temperatures for each room in your home.
Each of these choices provide their own unique benefits that can potentially fulfill your specific heating and cooling needs. If you have any additional questions about the your choice of mini split system, consider contacting the seller or local professional HVAC specialist. And before attempting to set up your new system, contact an HVAC professional to help you with the size requirements and installation. Always make sure to keep in mind any product recommendations so that your system runs safely and functions properly.
Good luck on your next purchase, and be sure to check out our other guides for more recommendations.
Still have questions? Ask an HVAC expert directly via chat or phone.
Published on 2020-06-16 by Ben Travis
Last updated on 2022-03-25
---
Recommended Reading