Best Electric Wall Heaters | Buying Guide
Keeping your indoor spaces warm is a top priority in cooler months. Fortunately, wall heaters can be a great solution for indoor areas where space is valuable, especially in hallways, small rooms, or detached units. They're also easier to install than migrating central heating to an area.
When used to add heat to specific rooms, electric wall heaters can save both space and energy. Keep in mind that many of these units require wiring, so when installing your wall heater, consider getting help from a professional electrician. Contact an expert directly via our Ask an Expert page.
Also, follow safety instructions and leave enough spacing between the floor and flammable elements, as wall heaters can get pretty hot.
If you're looking to save space, energy, and money while keeping warm and comfortable throughout winter, follow our recommendations for some of the best electric wall heaters on the market. Note that ductless mini split systems are another great alternative that doesn't require full-sized air ducts to function.
Now on to the list!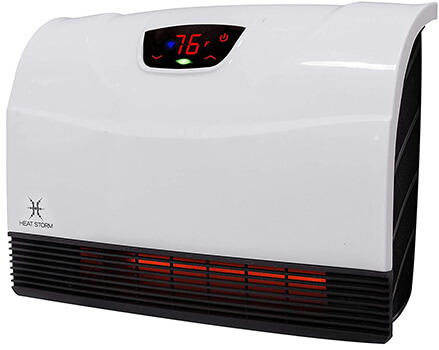 The Heat Storm HS-1500-PHX model is an easy-to-use smart wall heater. With WiFi-enablement, you can control your a room's temperature directly from your phone. Because it doesn't require any hard-wiring, installation is a breeze.
While the body is a little large compared to others on this list, this Heat Storm model is a great solution for those who need a "plug and play" option to heat up their space without taking up any floor room.
It's powered by up to 1,500 watts of electricity and comes with safety certification from ETL. With an automatic shut-off, it's also a great model for families. This infrared heater is also available as a floor unit and available in two different colors: white and dark gray.
Learn more about the Heat Storm HS-1500-PHX-WIFI Infrared Wall Heater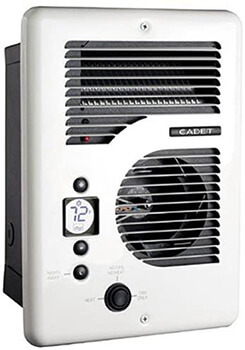 This Cadet wall heater is a great overall wall heater choice that's easy to install and easy to use. The Cadet Energy Plus wall heater comes with an electronic thermostat and features a smart sensor that auto-adjusts voltage according to your system. It also automatically adjusts fan speed to increase efficiency.
In terms of sound, the Cadet CEC163TW fan operates quietly as it delivers heat to your indoor space. The digital thermostat is easy to use, and its large display and easy-to-read buttons made it a solid choice for any space. Its power varies based on voltage, as seen here:
1600 watts at 240 volts
1500 watts at 208 volts
1000 watts at 120 volts
Learn more about the Cadet CEC163TW Energy Plus Wall Heater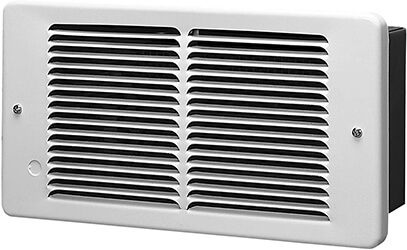 King's PAW series of electric wall heaters are industry favorites due to their small profile, reliability, and minimalist design. These models are made in the USA and come with a 5 year warranty.
The 2422 model has a capacity of 2,250 watts when installed with a 240 volt supply, and it also features multiple wattage options so you can adjust them as needed. Its metal design and "smart limit" patented safety feature make it an easy choice for those looking to purchase a simple electric wall heater. It's also a pretty quiet model.
Note this model doesn't come with a built-in thermostat and will need to be connected to one before operating.
Learn more about the King PAW 2422-W Electric Wall Heater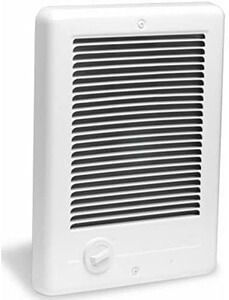 The Cadet CSC152TW Com-Pak model is a no-fluff wall heater solution that's small, blends in with almost any design, and comes with its own thermostat. It's an affordable heating solution that's also pretty easy to install by mounting the grill onto the wall with a few screws. It delivers heat through a forced-air system.
This Com-Pak wall heater has a high-gloss white finish and measures up at 1500 watts with 240 volt capacity. Rest assured that you'll be able to stay warm and comfortable with this wall heater while forgetting it's even there.
Learn more about the Cadet CSC152TW Com-Pak Wall Heater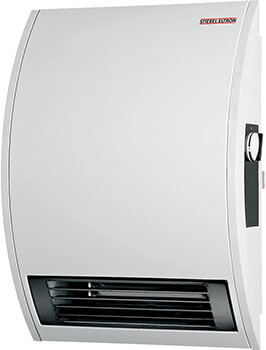 Made in Germany, the Stiebel Eltron 074057 wall heater is a sleek and powerful model made with quality in mind. This Steibel wall heater comes with an array of convenient and easy-to-use controls, and it's easy to install due to its surface mount design and quality construction.
This model operates quietly and comes with a built-in thermostat to make adjustments painless. You can also rest easy knowing that it has one of the best and most reliable performance ratings. And with 2,000 watts of power, it'll heat indoor spaces in no time, perfect for a cozy room during winter.
Learn more about the Stiebel Eltron 074057 Wall Mounted Electric Fan Heater (120/240-Volt)
Prepare yourself for the cold days ahead by investing in an electric wall heater that fits your needs. Whether you're looking to save space, energy, or money, electric wall heaters can be a great solution for indoor heating. Note that during power outages, kerosene heaters can be excellent alternative options in well-ventilated areas.
If you have any additional questions about the your choice of electric wall heater, consider contacting the seller or local professional HVAC specialist.
And before attempting to install any system that requires hardwiring, consider contacting an HVAC professional to help. Always make sure to keep in mind any product recommendations so that your system runs safely and functions properly.
Good luck on your next purchase, and be sure to check out our other guides for more recommendations.
Still have questions? Ask an HVAC expert directly via chat or phone.
Published on 2020-10-04 by Ben Travis
Last updated on 2021-10-24
---
Recommended Reading