The 4 Best Ceramic Space Heaters | Buying Guide
When the weather cools, many people turn to space heaters as a solution to heat homes and offices. In our space heater research guide, we shared how space heaters work and the different types of heaters available to consumers. In this buyer's guide, we'll share the best space heaters in terms of value, efficiency, performance, and aesthetic.
Before we start, let's quickly review what we mean when we say ceramic heaters. Ceramic heaters are the most common type of electric space heater, and they use convection heating. Inside these types of heaters is a ceramic heating element used to efficiently heat the surrounding air. They're generally portable, come with a fan to circulate heat, and self-regulate temperature. They're also often referred to as "forced-air" space heaters.
Here are the top 4 ceramic space heaters on the market:
Now let's compare: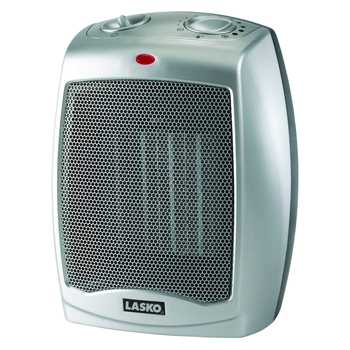 The Lasko 754200 is a great little ceramic heater you can use to keep small rooms warm or place under a desk to warm yourself in a cold office. It's one of the most popular small ceramic heaters out there, and there's a good reason. It also comes with basic features like overheat protection, an adjustable thermostat, and multiple power settings.
This simple yet powerful heater is intuitive, easy to move, and a great value.
Learn more about the Lasko 754200 space heater here.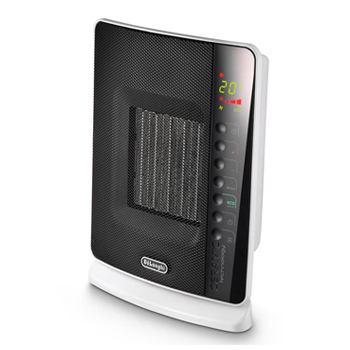 The DeLonghi DCH7093ER is a full-featured ceramic heater that packs a punch despite its small size. It offers an "ECO" setting to keep your energy bill down as well as an unobtrusive design.
This heater offers multiple heat settings, a touch control panel, an LCD display, a timer, a remote control, an oscillating fan, and more. WIth the right settings, you'll keep yourself warm while saving energy. Its "Safeheat" technology also mitigates the risk of this heater tipping over and overheating.
Learn more about the DeLonghi DCH7093ER space heater here.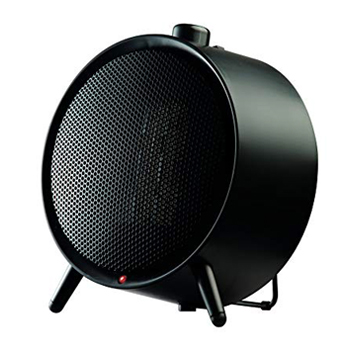 If you're looking for top ceramic heater performance, take a look at the Honeywell HCE200B Uberheat. This heater is compact, sleek, and heats most small rooms without issues. There's no setup required, and it offers two heat settings, a manual thermostat, overheat protection, and a tip-over trigger.
If you don't mind the fan's noise this heater can be used for almost any situation, including heating bedrooms. The HCE200B Uberheat also offers standard safety features to decrease the risk of damage to your home and family.
Learn more about the Honeywell HCE200B Uberheat space heater here.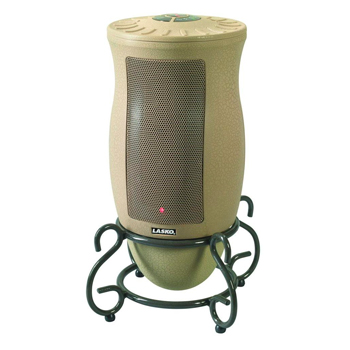 Are you hoping to warm a room while also keeping it chic? The Lasko 6435 Designer Series exudes style while performing admirably. This heater is ideal for heating small and medium spaces without sticking out. The design is so nice that you might even confuse it for an artistic home furnishing.
Its design will go well with most room decor, and it comes with helpful features like a timer, multiple power levels, thermostat, and oscillating fan. The rotating fan makes sure that air circulates efficiently and is surprisingly quiet.
Learn more about the Lasko 6435 space heater here.
Find the Right Ceramic Heater for You
Space heaters can be a great heating solution for many situations and even reduce energy bills when used correctly, and ceramic heaters are the most popular type you'll find. They come in a variety of models, so be sure to take into account your wants and needs before making a purchase.
Be sure to follow safety protocols recommended by the manufacturer, keeping heaters away from flammable items, turning off heaters before you leave a room, and plugging electric heaters directly into wall outlets instead of using extension cords.
Good luck on your next purchase, and be sure to check out our other guides for more recommendations.
Still have questions? Ask an HVAC expert directly via chat or phone.
Published on 2018-10-03 by Ben Travis
Last updated on 2020-10-04
---
Recommended Reading