Lasko 6435 Designer Series Ceramic Oscillating Heater with Remote Control Review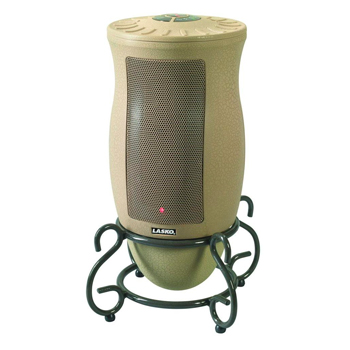 Pairing elegance and functionality, the stylish 6435 model is part of Lasko's "designer series" of heaters and blends with almost any decor. It contains numerous features including a timer, remote control, multiple power levels, thermostat, and oscillating fan. Since it arrives pre-assembled, buyers can use it right away.
Buy Here
$60.00
---
Description
Perhaps the best-looking ceramic heater on the market, the Lasko 6435 is well-suited for heating small and medium spaces without drawing attention to itself. Sporting a chic crackled finish and decorated base, visitors might confuse the heater with a nice piece of pottery.
This heater has a host of different features that make it highly convenient. With a remote, users have the option of controlling it from a bed, desk, or couch. The oscillating fan ensures warm air will spread evenly, and it's quieter than most. Note that this model is more or less the "big brother" of the Lasko 6405 model (plus a remote).
Rating
Specifications
Manufacturer: Lasko
Price: $60.00
Dimensions: 8.25 x 8.25 x 16.05in
Watts: 1500
Weight: 8 lbs
Warranty: 3 years
Weighted User Rating: 4.6/5
Type: Ceramic
Performance
Useful for keeping rooms warm and energy bills low, the Lasko 6435 offers two main heat settings (high at 1500 watts and low at 900 watts), as well as an oscillating fan to more efficiently warm spaces. Because its fan rotates within a 90 degree range, it can be efficiently used from room corners. Lasko recommends cleaning the appliance every few weeks and keeping it away from overly humid conditions.
Features
There are plenty of features on the Lasko 6435 model to customize your heating experience. First, the adjustable thermostat that provides manual control of temperature. Second, there are two heat settings, high and low. Third, the timer can be set between 1-7 hours. Fourth, the oscillating fan can be turned off or on. Finally, the remote allows all control from anywhere in a room. Note that the remote requires 2 AAA batteries.
Safety
While it doesn't come with a tip-over switch, this Lasko heater does come with automatic overheat protection. That means it will turn off when the unit becomes too hot, preventing it from using too much energy and decreasing risk of damage.
As a general safety precaution when using heaters, make sure to leave at least a foot or two of clearance between furniture, and never drape clothes or other flammable items on top of the heater.
Takeaways
While it isn't the most portable heater, the Lasko 6435 is certainly an effective heater that's easy on the eyes. Shipped fully assembled, it comes with many different features that make it highly convenient to use once winter rolls around, including a fan quieter than most of the competition, and a remote for situations where reaching the unit may be impractical.
For those looking at heaters that they'll keep for a long time, this designer-series model mixes above average performance, with useful features and a modern aesthetic to create an impressive heating solution.