Lasko 5409 Ceramic Heater Review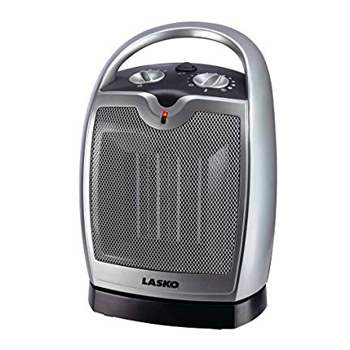 The Lasko 5409 heater is a small and powerful heater made with portability in mind. It efficiently spreads warm air throughout a room or office space with its oscillating fan and requires little to no setup.
Buy Here
$40.00
---
Description
This heater weighs only 4 pounds and can reasonably heat most small and medium rooms. Sporting a carry handle, it may be the easiest mid-sized ceramic heater to move around. The "big brother" to Lasko's popular 754200 model, the this model offers a few upgrades like the oscillating fan, used to efficiently eliminate cold areas in rooms. It also comes with basic features like overheat protection, an adjustable thermostat, and multiple power settings.
Rating
Specifications
Manufacturer: Lasko
Price: $40.00
Dimensions: 6 x 7 x 9.2in
Watts: 1500
Weight: 4 lbs
Warranty: 3 years
Weighted User Rating: 4.2/5
Type: Ceramic
Performance
The Lasko 5409 is well-suited for heating small and medium-sized rooms. It has two main heat settings (high at 1500 watts and low at 900 watts), as well as a "fan only" mode. Designed to operate almost anywhere in a room, this oscillating heater spreads warm air evenly. In order to run at peak performance, Lasko recommends cleaning the appliance every few weeks. Be sure to keep it away from overly humid conditions.
Features
With an adjustable thermostat that provides manual control of temperature and two heat settings there's enough control for most users. The "fan only" mode can be used year-round, as well.
It may not be the prettiest of the bunch, but the Lasko 5409 is extremely portable for a mid-sized heater and comes with built-in carrying handle. This heater also comes with an orange light on top that indicates whether the appliance is plugged into a working electrical outlet.
Safety
Using overheat protection, the this heater will shut down when it gets too hot. This keeps the unit from using too much energy and decreases risk of damage to home and family. While it has a solid frame, there is no tip-over trigger included.
As a general safety precaution when using heaters, make sure to leave at least a foot or two of clearance between furniture, and never drape clothes or other flammable items on top of the heater.
Takeaways
Overall, the Lasko 5409 provides above average performance in a small and portable frame. Used most effectively in small rooms, it takes up little space and can be placed in nearly any part of a room.
It's simple in design and function, with two heat settings, an adjustable thermostat, and a notable carrying handle. While it doesn't have a built-in timer, using a timer in tandem with the heater will provide more automated control.
Because of its oscillating fan, warm air is spread evenly throughout a space, which makes it arguably more useful than some of its counterparts. In terms of noise, it's certainly not silent but won't distract you as you're going about your day. The Lasko 5409's solid performance and portability make it a smart choice.