Lasko 754200 Ceramic Space Heater Review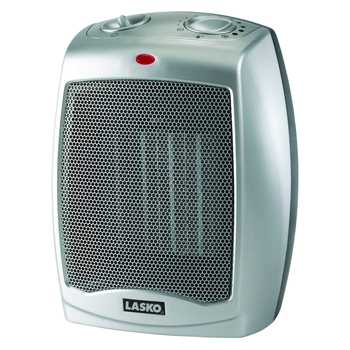 This Lasko heater is affordable yet powerful, and one of the most popular small ceramic heaters on the market. It's extremely portable and can be used around the house with minimal effort. Due to the intuitive, no-frills design, you'll be able to use it right out of the box without any setup.
Buy on Amazon
$30.00
---
Description
The Lasko 754200 Ceramic Heater may seem miniature in size but is surprisingly powerful. Working best in small rooms, it sports a straightforward, easy-to-use design. Although it offers little customization, this small heater does its job very well. It just might be the best value out there for those looking at cheap, small ceramic heaters. Few others in this price range can match the its power and reliability. It also comes equipped with a few features, including overheat protection, an adjustable thermostat, and multiple power settings.
Rating
Specifications
Manufacturer: Lasko
Price: $30.00
Dimensions: 6 x 7 x 9.2in
Watts: 1500
Weight: 3.8 lbs
Warranty: 3 years
Weighted User Rating: 4.2/5
Type: Ceramic
Performance
The Lasko 754200 heats small rooms quickly and efficiently. Despite its small frame, it can operate using 1500 watts on the high setting and 900 watts on low. Even though it packs quite a bit of power for a small machine, it works best in small bedrooms, office dens, and bathrooms. For optimum performance, Lasko recommends cleaning the appliance every few weeks and keeping it away from overly humid conditions."
Features
This heater touts an adjustable thermostat that provides manual control of temperature when the high and low heat settings are turned on. There's also a "fan only," meaning it can be used as a standard fan if needed. While it doesn't sport a particularly pretty design, it's highly portable and comes with a convenient carrying handle built into the frame, making it easy to bring with you to different rooms. This heater also comes with an orange light on top that indicates whether the appliance is plugged into a working electrical outlet.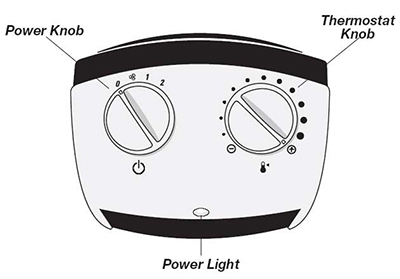 Safety
Equipped with overheat protection, the Lasko 754200 will turn off before getting too hot, helping to unit to last longer and keep rooms safe. Although it has a stable frame, the one major safety feature not included is a tip-over trigger. Tip-over triggers kick in after a heater falls on its side, shutting off power before becoming a safety hazard.
As with all heaters, be sure to give at least a foot or two of clearance between furniture, and never drape clothes or other flammable items on top of the heater.
Takeaways
Overall, the Lasko 754200 offers one of the best values in the market. It's small, sturdy, powerful, and relatively durable. It's best used to heat small rooms and works very well in mild climates. The unit is light and portable while taking up minimal space, meaning it can be stored without effort.
This heater doesn't come with any bells or whistles. While there are two heat settings, the adjustable thermostat doesn't give number ratings, only relative intensity. Depending on where in a home or office you're using it, the cord may also be a bit short. It can be helpful to purchase a cheap timer to use in tandem with the heater for more automation. Although it doesn't include an oscillating fan, the "fan only" setting means that it can be used in the summer as a traditional fan. In terms of noise, it's certainly not silent but won't distract you as you're going about your day.
It may not be the prettiest heater out there, but it's highly practical, and you'll have a hard time beating the performance at such a low price point.
---
Other Recommended Reviews