Honeywell HCE200B UberHeater Ceramic Heater Review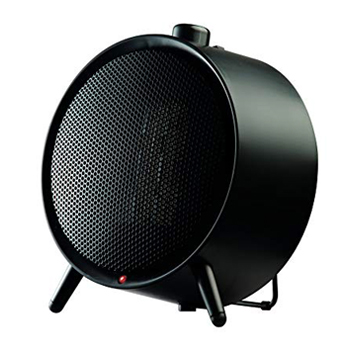 Tiny but capable. This heater from Honeywell is compact, sleek, and well-suited for small rooms or office spaces. Designed with simplicity in mind, the UberHeat Ceramic Heater requires no setup and can easily move between locations. It offers basic features: two heat settings, a manual thermostat, overheat protection, and a tip-over trigger.
Buy Here
$35.00
---
Description
The Honeywell HCE200B Uberheat Ceramic Heater is a petite, circular heater that offers a clean and appealing design. It does a sufficient job of warming small areas and uses an internal fan to better circulate air. It comes with two power heat settings: a lower setting, using 800 watts, and a higher setting, using 1500 watts. To keep temperature consistent, the heater turns off once a set temperature has been reached and kicks back on when air becomes colder.
As a simple heating solution, it produces adequate heat in bathrooms and small bedrooms or on an office desk. It can also make areas comfortable for sleeping, as long as you don't mind the fan's noise. The HCE200B Uberheat also offers standard safety features to decrease the risk of damage to your home and family.
Rating
Specifications
Manufacturer: Honeywell
Price: $35.00
Dimensions: 8 x 5.9 x 9in
Watts: 1500
Weight: 3.9 lbs
Warranty: 3 years
Weighted User Rating: 4.3/5
Type: Ceramic
Performance
As a compact ceramic heater, the HCE200B Uberheat proves itself to be a very capable appliance. It can use up to 1500 watts in a modern design to deliver heat to a whole room (high setting) or a more focused, personal area (low setting).
Features
The heater comes with two heat settings to give limited control over the power output. In addition, the adjustable thermostat allows more specific control over temperature, though it offers a relative scale instead of specific degrees. The Uberheat is ideal for small room use and personal office space. It also comes with a 3 year limited warranty.
Safety
This heater comes equipped with two standard safety features, including a tip-over trigger that senses when the appliance has been knocked on its side and shuts off the unit. This makes it useful for homes with children and pets.
To keep the temperature at a reasonable level, it also includes overheat protection. Paired with the "cool touch" housing, risks of burns and fires are greatly reduced.
Takeaways
The Honeywell HCE200B proves itself capable in nearly every aspect, with a particularly appealing and unobtrusive design. Useful in small spaces, this "plug and play" heater can easily move between locations, though the handle could be more ergonomic. Keep in mind that it works best atop tables, desks, and nightstands.
With high and low heat settings, as well as a manual thermostat, it uses a fan (like most other ceramic heaters) to circulate air. While the fan isn't completely quiet, it shouldn't disturb most. In terms of safety, both the tip-over trigger and overheat protection significantly decrease risks that come with owning a heater, especially when used in "active" environments.
Overall, it proves to be a great little heater that pairs well with most decor.