DeLonghi DCH7093ER Ceramic Heater Review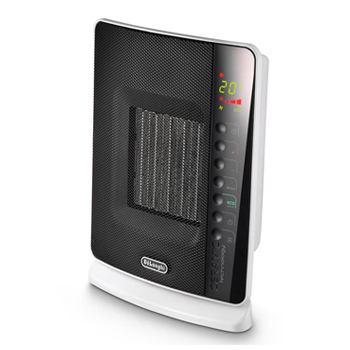 The DeLonghi DCH7093ER is a highly customizable ceramic heater that's strong enough to heat full rooms and small enough to carry around easily. With touch controls, a special "ECO" setting, and a sleek design, it's one of the most advanced mid-sized ceramic heaters on the market.
Buy Here
$70.00
---
Description
The first thing you'll notice on the DeLonghi DCH7093ER heater is the control panel, and that's no accident. With multiple heat settings, a touch control panel, LCD display, timer, remote control, and oscillating fan, there are plenty of bells and whistles that come with this unit, in addition to very solid performance. While it costs more up front, it's also an extremely efficient and personalizable heater. Using the right settings can save you quite a bit in the long run. Its "Safeheat" technology also mitigates risk of tipping over and overheating.
Rating
Specifications
Manufacturer: DeLonghi
Price: $70.00
Dimensions: 6 x 10 x 13in
Watts: 1500
Weight: 4.9 lbs
Warranty: 1 year
Weighted User Rating: 4.2/5
Type: Ceramic
Performance
With its multiple heat settings, the DeLonghi DCH7093ER works well in small and medium spaces. DeLonghi also claims that using its "ECO" setting can save 20%-40% in energy costs compared to other heaters. This ceramic heater can use up to 1500 watts to efficiently and quickly heat a space, even moreso when the oscillating fan is turned on. This unit can also be used in warmer seasons with its fan-only mode.
To keep this model running at peak performance, remember to remove and wash its anti-dust filter.
Features
This heater comes with easy-to-use touch controls and a digital LCD display. Users can adjust the digital thermostat to provide precise temperature control, and use a 24-hour timer to control power usage. DeLonghi 's ECO function picks the best internal settings based on your temperature and power preference.
Its remote control allows for fast and simple changes to temperature, power level, timing, and fan oscillation, giving users the option of controlling it from a bed, desk, or couch.
Safety
The DeLonghi DCH7093ER is equipped with two safety features, as well as a self-regulating ceramic heating element. Its overheat protection keeps the unit from getting too warm and preventing it from using too much energy. It also includes a tip-over trigger. Tip-over triggers kick in after a heater falls on its side, shutting off power before becoming a safety hazard.
As a general safety precaution when using heaters, make sure to leave at least a foot or two of clearance between furniture, and never drape clothes or other flammable items on top of the heater.
Takeaways
For those needing a durable, efficient, and sleek heating solution, the DeLonghi DCH7093ER is a great fit. It can be used in a variety of different spaces, in both home and office settings. Its multiple power settings, ECO option, and remote give complete control to users. Its modern flat-panel design with touch controls work with most decor.
Stacked with power and safety features, this unit can handle countless situations. While it costs more than some others in the space, you're likely to see some fantastic energy cost savings.
Shipped fully assembled, it comes with many different features that make it highly convenient to use once winter rolls around, including a fan quieter than most of the competition, and a remote for situations where reaching the unit may be impractical. The unit's fan-only setting means it can be used year-round.
The DeLonghi DCH7093ER combines solid performance, customization, and efficiency to create a highly impressive heating solution.