The 4 Best Thermostats | Buying Guide
Thermostats play a vital role in most homes and offices, regulating temperatures and keeping energy bills low. In our thermostat research guide, we explained how these appliances work and the different types available to consumers. In this buyer's guide, we'll share the best home thermostats in terms of value, efficiency, performance and aesthetic.
By sensing room temperature and adjusting HVAC systems, thermostats create a consistent environments, and some thermostats even learn your habits to optimize temperature around your schedule. Ready to find the thermostat that best fits your lifestyle? Here are the top 4 thermostats on the market:
Now let's compare: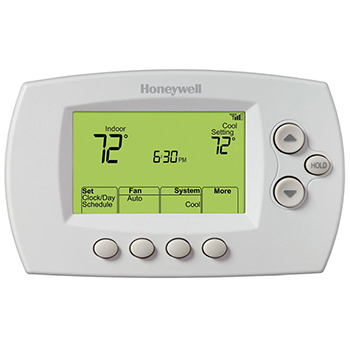 The Honeywell RTH6580WF is a very affordable thermostat with a few programmable features. With a traditional digital interface and physical buttons, it's easy to operate and is also WiFi capable, which means you can control it through your mobile devices.
This model also works with Alexa, allowing for voice control. With it's 7-day programmable setting (including 4 periods per day), you can customize temperature settings for nearly every part of your schedule.
Honeywell's RTH6580WF thermostat is simple, intuitive, and a great value.
Learn more about the Honeywell RTH6580WF here.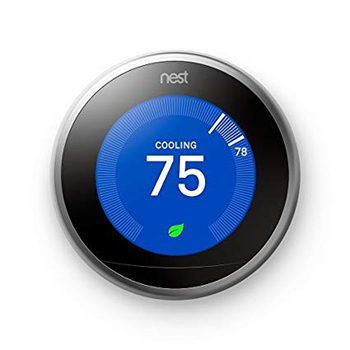 The Nest T3007ES smart thermostat has a unique design packed with smart features. It's Energy Star Certified, which means it can help you save both energy and money. It learns what temperature you prefer and builds a schedule around your preference.
This thermostat offers features like safety alerts, filter change reminders, and furnace updates. The Home/Away Assist feature helps you save energy by powering down when no one is home. It can also track the energy usage of a household to see how much energy was used and why.
With its WiFi capabilities, it can be controlled through mobile devices or through voice via Alexa voice command. Its Farsight feature can spot when someone enters the room and automatically turn on lights to show the temperature, time, or weather information.
Learn more about the Nest T3007ES here.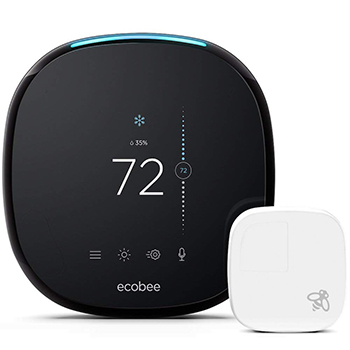 The ecobee4 smart thermostat is a full-featured thermostat with a sleek body, created for maximum comfort and energy saving. It's been carefully engineered for a busy household.
With the built-in Amazon Alexa Voice integration, ecobee4 can perform many skills – all you have to do is ask. It can hear you even from across the room with the embedded microphones and far-field recognition. Its speaker has been engineered for clear voice and full sound.
If you're looking for a powerful yet usable thermostat that also allows you to order groceries, read the news, and more, look no further.
Learn more about the ecobee4 Smart Thermostat here.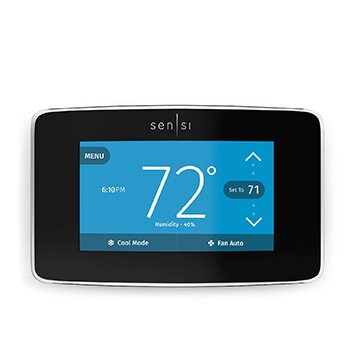 The Emerson Sensi Touch Wifi Thermostat is an aesthetically-pleasing smart thermostat with a modern appearance and high definition touch screen display, perfect for night time or low lighting.
It uses a color shift feature to change colors, indicating whether your system is heating or cooling. It's blends in well with most decor and gives a subtle accent to your wall.
Aside from aesthetics, it's also packed with useful features. Its "Smart Alerts" notify users when extreme temperature or humidity changes are detected. The geofencing feature uses your smartphone's location to automatically adjust your thermostat. It's WiFi capable, so you can control it remotely through phones, tablets, or laptops.
Learn more about the Emerson Sensi Touch Wifi Thermostat here.
Find the Right Thermostat for You
Thermostats are an important component in maintaining the perfect climate in your home or office. Choosing the right thermostat can help you feel more comfortable, save energy, and even level up your interior design. Although choosing the best thermostat mostly depends on personal preferences, it's also important to understand whether or not a thermostat can operate with your existing cooling and heating systems.
When installing your new thermostat, be sure to follow all the installation procedures provided by the manufacturer. Place your thermostat on an inside wall about five feet up from the floor. Protect it from any liquids or excessive moisture. Be sure to dispose your old thermostat properly especially if it contains mercury.
Good luck on your next purchase, and be sure to check out our other guides for more recommendations.
Published on 2018-10-03 by Ben Travis
Last updated on 2018-12-06
---
---
Recommended Reading