The 4 Best Humidifiers | Buying Guide
Proper indoor humidity is crucial for personal health and comfort, especially during the winter months when the air in indoor spaces becomes particularly dry. Indoor humidity should ideally stay between 35 and 50 percent. Humidifiers help by regulating air moisture, using several different methods including vaporization, evaporation, impelling and using ultrasonic vibrations. In our humidifier research guide, we explained how these appliances work and the different types available to consumers.
In this buyer's guide, we'll share the best humidifiers in terms of value, efficiency, performance and aesthetic. Ready to find the humidifier that best fits your lifestyle? Here are the top 4 humidifiers on the market:
Now let's compare: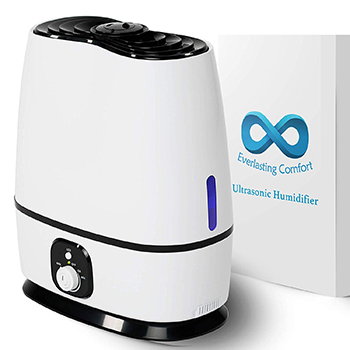 This affordable 6L humidifier efficiently covers a full-sized room for up to 50 hours in between refills. It doubles as a diffuser, using a small essential oil tray to keep the water reservoir from getting contaminated with oil. It has a 360-degree rotating nozzle at the top and an auto-shutoff feature as well.
With a large capacity, low energy consumption, safety features, quiet operation, and a user-friendly design, this cool mist humidifier offers users a great value.
Learn more about the Everlasting Comfort Cool Mist Humidifier here.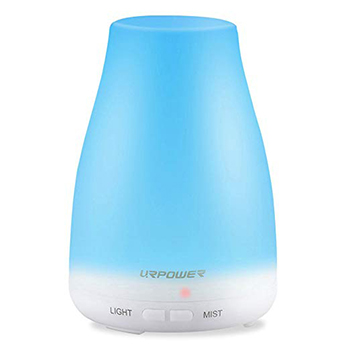 If you're looking for an eco-friendly humidifier with low energy consumption, this cool mist humidifier is a great option. It consumes only 10 watts and has two innovative mist settings to furthercustomize energy usage. Its intermittent mode gives a 30-second on and off flow of mist that prolongs the runtime and reduces energy consumption.
The manufacturer promises up to 6 hours of operation per fill, but it's possible to stretch that to 8 hours. This URPOWER humidifier is an optimal and simple-to-use humidifier for moderate use in households.
Learn more about the URPOWER Essential Oil Cool Mist Humidifier here here.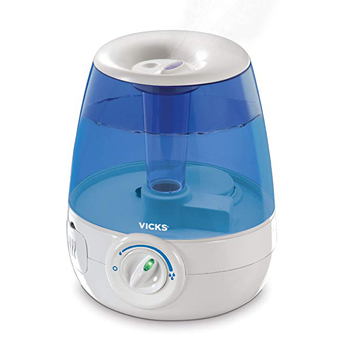 While Vicks is well-known for their effective cough and congestion relief products, they also create a fantastic cool mist humidifier. Meant to be used with their menthol scented Vapo Pads, this ultrasonic humidifier delivers great performance as a normal humidifier or as a way to relive cold symptoms.
With its 1.2-gallon water reservoir, it gives a steady and consistent cool mist output that lasts up to 30 hours. The whisper quiet operation makes it ideal for bedrooms or nurseries. Because it's filter-less, this model is extremely easy to clean and maintain, as well.
Learn more about the Vicks Filter Free Ultrasonic Visible Cool Mist Humidifier here.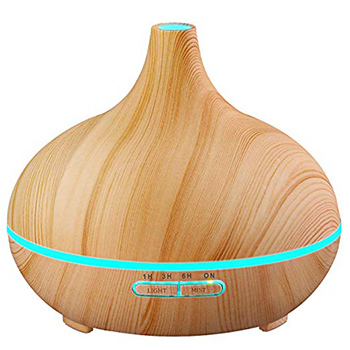 For those in the market for a high quality yet chic humidifier that looks great on a nightstand, this cool mist humidifier might be just what you're looking for. With its wood grain design, it's an appealing option that's shaped well and designed to spruce up any room.
It also comes with an LED light that features 7 different soothing colors. Even at the brightest setting, the night light isn't too harsh.
The VicTsing Ultrasonic diffusor has a capacity of 300ml, and it provides up to 6 hours of runtime as a diffuser or a humidifier, which can be great for yoga studios, offices, or living rooms that requires a tranquil and fragrant ambiance.
Learn more about the VicTsing 300ml Cool Mist Humidifier Ultrasonic Aroma Essential Oil Diffuser here.
Find the Right Humidifier for You
Maintaining an ideal humidity level in your home can prevent dry skin, ease sinuses issues, and protect your furniture or wood floors from cracking. Choosing the right thermostat can help you feel more comfortable, stay healthy, and even level up your interior design.
It's important to note that not all humidifiers can be used as diffusers for essential oils and liquid inhalants. If you're planning to use your humidifier as a diffuser, choose one specifically made for that purpose since essential oils can damage and void the warranty of some humidifiers.
Don't forget to leave your comments/suggestions below, and check out our other guides for similar reviews and recommendations, as well. Good luck on your next purchase!
Still have questions? Ask an HVAC expert directly via chat or phone.
Published on 2018-12-03 by Ben Travis
Last updated on 2021-02-20
---
Recommended Reading