URPOWER Essential Oil Cool Mist Humidifier Review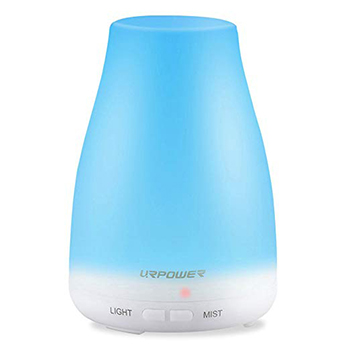 This upgraded version of URPOWER's Essential Oil Diffuser is a cool mist humidifier with a secure auto shut-off function. It sports a modern-looking design with a smooth white exterior that transforms into 7 different colors, including blue, green, and yellow, using internal LEDs. As a compact humidifier, it's a great addition to small rooms, addingx moisture (and fragrance) to the air.
Buy Here
$25.00
---
Description
The URPOWER Essential Oil Cool Mist Humidifier is more efficient and cost-effective than its older sibling, producing a higher and more powerful volume of mist despite its compact and portable design. It has two different mist modes - a continuous mode that delivers 3 hours of consistent mist and an intermittent mode which operates using a 30 second on and off cycle to prolong the duration to 6 hours. The ultrasonic technology used in the device breaks the essential oils into microparticles without harming the ingredients. It also adds oxygen molecules to the air, further purifying the indoor environment and removing any lingering odors.
Rating
Specifications
Manufacturer: URPOWER
Price: $25.00
Dimensions: 3.1 x 3.1 x 5.5 in
Watts: 10
Weight: 10.9 lbs
Warranty: 2 years
Weighted User Rating: 4.5/5
Type: Mid-sized Humidifier
Performance
This portable humidifier only consumes 10 watts of power to operate, so you'll keep your electricity bill low while properly humidifying your room (and making it smell good) at all times. The specified runtime is 3-6 hours depending on the setting, but using the intermittent setting, you can stretch it to more like 8 hours. The detachable design helps make the device easy to clean. For better durability and performance, the manufacturer recommends storing it cleaned and dry when not in use.
Features
This humidifier comes with two adjustable mist modes. The Continuous Mode gives a consistent flow of mist for 3 hours straight, and the Intermittent Mode that gives a 30-second on-and-off flow of mist to prolong operation between refills.
The product has two separate power buttons - a Mist button and a Light button. The Mist button controls the diffusing process, and the Light button turns the device into a night light with 7 different colors that can be changed manually.
Safety
The auto-shutoff function is the main safety feature in the URPOWER Essential Oil Cool Mist Humidifier. When the water reservoir is empty, it automatically shuts off to prevent potential overheating and other issues. The wider bottom keeps it sturdy on any flat surface without easily tipping over.
Takeaways
The product simple design, pleasant colors, and smooth surface make it a stylish addition to any living or bedroom. The material used in the product is durable but soft, making it safe to keep around children.
The the colorful lights from the night light can be a little too bright sometimes, but overall, this is a beautiful little humidifier that delivers what it promises and even a little more.