VicTsing 300ml Cool Mist Humidifier Ultrasonic Aroma Review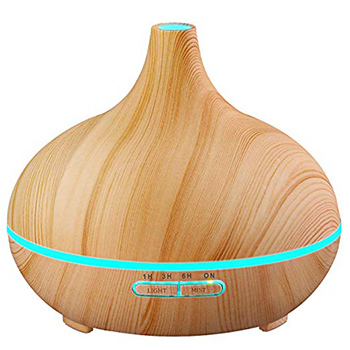 This wood grain-patterned cool mist humidifier and diffuser helps create a soothing environment while complementing modern decor. It can be safely used with essential oils for therapeutic purposes or to simply fill an indoor space with fragrance. With a capacity of 300ml, it has a working time of 6-10 hours and comes with an auto-shut off function for convenience and safety.
Buy Here
$30.00
---
Description
The VicTsing 300ml Cool Mist Humidifier is one of the best-selling humidifiers, running efficiently with a diffuser spray quantity of 30-50ml. The humidifier is made of BPA free materials and includes reliable safety features such as an auto-shut off function, making it safe for home and family use. It also works as a subtle night light due to its colorful LED light ring.
At the lowest mist setting, the VicTsing 300ml Cool Mist Humidifier has a run time of up to 10 hours, making it suitable to use at night for a soothing and comfortable sleep.
Rating
Specifications
Manufacturer: VicTsing
Price: $30.00
Dimensions: 6.7 x 6.7 x 6 in
Watts: 12
Weight: 1.45 lbs
Warranty: 1 year
Weighted User Rating: 4.6/5
Type: Mid-sized Humidifier
Performance
Using only 12 watts of power to operate, this humidifier delivers up to 10 hours of consistent mist time in between refills. The volume of the mist can be changed depending on how your desired intensity.
Cleaning the device is very easy due to the detachable lid. It only needs to be wiped off with a soaked cloth every now and then. The manufacturer recommends using water-soluble essential oils for easy maintenance and the durability of the device.
Features
VicTsing Cool Mist Humidifier comes with 4 different time settings – 1 hour, 3 hours, 6 hours, and a continuous mode that can last up to 10 hours. The mist output can be adjusted to a standard or a strong setting.
The LED light comes in 7 different calming colors that can be set to only one color or automatically cycle colors during operation if desired.
Safety
The water tank is made of BPA-free material. According to the manufacturer, it uses the same safe materials baby bottles are made of, making this humidifier a good addition to baby rooms as well.
The built-in auto shut off function turns off the device within 5 seconds when the water tank is empty, which protects the diffuser from any overheating issues.
Takeaways
The VicTsing 300ml Humidifier and Diffuser can also serve as an ornamental piece in your bedroom, living room, office, or other space due to its artistic shape and the wood grain design. It has a generous runtime with the ability to consistently diffuse essential oils. This humidifier runs quietly due to the ultrasonic technology used.
At a relatively low price point, it satisfies all the basic needs of a humidifier and diffuser. time settings help reduce energy waste, and the 7 different LED bulbs add an extra design oomph to the device.