PARTU HEPA Air Purifier Review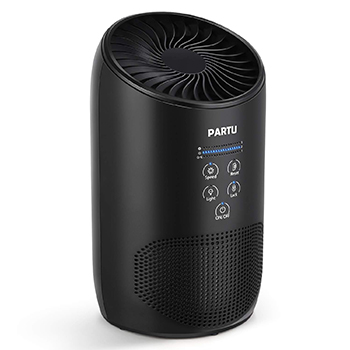 The no ozone air purifier by PARTU works almost effortlessly and comes in a sleek black housing. It uses a HELPA filter solution to remove 99.97% allergens – ideal for wildfire smoke, pet dander, and allergies. You can even introduce essential oils to your indoor spaces using the frangrance sponge.
Buy Here
$60.00
---
Description
The PARTU HEPA air purifier cleans air in indoor spaces, easily removing smoke particles, dust, pet dander, and pollen as small as 0.3 microns. The anion function of the purifier reduces odor (and spread pleasant fragrances), all while being ozone-free. Its impressive features set makes it a stylish yet affordable air purifying solution for its price range.
It comes with a true HEPA filter used to prevent allergies, respiratory issues, and bad smells.
Rating
Specifications
Manufacturer: PARTU
Price: $60.00
Dimensions: 6 x 6 x 12 in
Watts: 18
Weight: 3.45 lbs
Warranty: 2 years
Weighted User Rating: 4.5/5
Type: Air Purifier
Performance
The PARTU HEPA air purifier helps create a healthy indoor environment, something important since indoor air levels can be fiv times higher than outdoor levels. This PARTU model is efficient, customizable, relatively quiet, and runs for 6-8 months without a filter change. For smaller rooms, it performs well and can alse be used as a fan.
Features
The HEPA filter cleans air of nearly all contaminents. It's easy to operate and features a frangrance sponge to keep air even fresher, advanced air flow movement, and a technology set lock to avoid operation errors. It also operates relatively quietly, producing soft white noise.
Safety
The PARTU HEPA air conditioner works very well as a household air purifier. It doesn't use ionization or UV that can leave trace amounts of ozone in the air. It's a user-friendly product in a convenient size that doesn't come with any major safety concerns.
Takeaways
This small but mighty air purifier makes a great addition to any modern interior design, with its small black exterior. It works well in smaller rooms to filter out unpleasant and dangerous air particles, going about a half year between filter replacements. For best results, set it to full speed and close the door.