Okaysou AirMic4S Air Purifier Review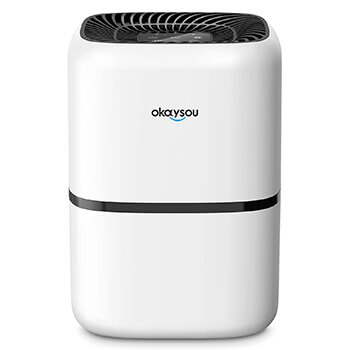 The AirMic4S is Okaysou's smaller model, made for rooms up to 300 square feet. Housed in a compact and unobtrusive case, it uses a HEPA filter to allow fewer than 0.03% of particles in the air to pass through. That means the AirMic4S helps rid the air of wildfire smoke, pet dander, allergies, and more. You can even use Okaysou's specialty replacement filters for specific use cases.
Buy on Amazon
$99.00
---
Description
The Okaysou AirMic4S air purifier cleans air in indoor spaces, easily removing common air pollutants. It's easy to use and comes with an effective sleep mode, among other features.
With its HEPA filter and 5 year warranty, it's a great solution for small and medium-sized rooms.
Rating
Specifications
Manufacturer: Okaysou
Price: $99.00
Dimensions: 8.7 x 8.7 x 11.9 in
Watts: 25
Weight: 6.6 lbs
Warranty: 5 years
Weighted User Rating: 4.5/5
Type: Air Purifier
Performance
The Okaysou AirMic4S air purifier is compact but effective. It circulates air up to three times per hour in rooms of 300 square feet, and five times per hour for smaller rooms of 150 square feet. Because of that circulation rate, its powerful HEPA filter, and compact design, you'll see high performance in small and medium rooms up to 300 square feet.
For specific needs, Okaysou also offers replacement filters for specific environments, including a germ defense filter, a toxin absorber filter, and an odor remover filter. Note these are sold separately.
Features
The AirMic4S comes with a standard set of air purifier features that you'd expect, like three fan speeds, a timer, and a sleep mode. There's also blue LED light with multiple settings (including off) you can set if that's your pot of tea, and the smart change filter indicator lets you know when to replace your filter. It's very easy to operate, and setup only requires that you remove the filter packaging before starting.
Our favorite feature is the sleep mode, which turns off all lights and kicks the fan into low gear. 🌙😴
Safety
This small Okaysou model works very well as a household air purifier. It doesn't use ionization or UV that can leave trace amounts of ozone in the air. There aren't any major safety concerns, and the 5 year warranty (make sure to register!) should give you some peace of mind.
Takeaways
This compact but powerful air purifier makes a great addition to any small or medium room. It comes with a standard set of features, an excellent sleep mode, and a generous 5 year warranty. Whether you use it in an office environment or at home, the AirMic4S is a flexible and effective air purifier solution. For best results, set it to full speed and close the door.
---
Other Recommended Reviews