PureZone 3-in-1 Air Purifier Review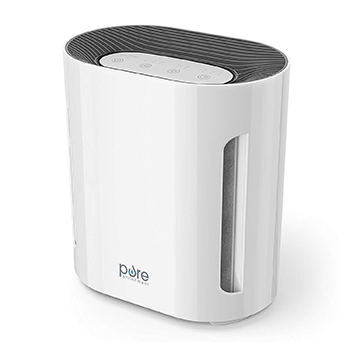 The PureZone 3-in-1 Air Purifier sanitizes indoor air, making it fresher and healthier. It sports a modern design that goes with most décor. Using a strong filter system and UV-C light, it traps unwanted air particles while operating at a reasonable 30db sound level. It comes with three speed settings, an automatic times, and special sleep mode.
Buy Here
$100.00
---
Description
This air purifier easily cleans air of pollen, smoke, dust, and other pollutants to create a comfortable environment at indoors. Its UV-C light destroys germs, bacteria, and fungi, while the combination of pre-filter, activated carbon filter, and HEPA filter trap other particles. It can filter up to 200 square feet, making it a good fit for medium or even large-sized rooms.
The optional automatic timer shuts off the unit after 8 hours of operation to conserve energy. Backed with an impressive 5 year warranty, this air purifier is durable and reliable.
Rating
Specifications
Manufacturer: PureZone
Price: $100.00
Dimensions: 13.5 x 12.1 x 8.2 in
Watts: 60
Weight: 8.54 lbs
Warranty: 5 years
Weighted User Rating: 4.6/5
Type: Air Purifier
Performance
The PureZone 3-in-1 air purifier safely creates a clean indoor environment and can make a big difference to those with allergies, living in areas prone to smoke, or pet owners. It eliminates bad odor in an impressively large range and operates with low noise. It combines multiple methods of cleaning to efficiently cover a wide area.
Features
This PureZone air purifier features a 3-in-1 filter (replaced every 6 months), 3 speed settings, multiple timer modes, and a sleep mode that turns off all lights hile operating. It also includes a filter reset indicator that notifies you when you should change the filter.
Safety
The PureZone 3-in-1 air purifier works very well as a household air purifier. It's a user-friendly product in a convenient size that doesn't come with any major safety concerns. Note that this model uses UV light to target germs, which can sometimes produce ozone.
Takeaways
This is an efficient air purifier that will work in nearly every room. It uses impressive filter technology to eliminates air impurities and comes with a variety of helpful features. On top of that, it operates quietly and has a modern design. Aside from its relatively large size, it's hard to beat.