GermGuardian AC4100 Air Purifier Review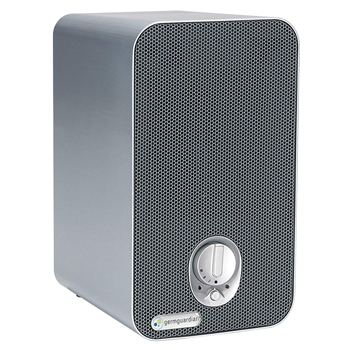 This 3 in 1 purifier is ideal for smaller spaces, and its HEPA filter captures allergens and dust that can irritate respiratory systems. This air purifier also uses UV light to kill germs and a charcoal filter to capture odors. Additionally, it looks good (kind of like small speaker), and takes up very little room.
Buy Here
$51.00
---
Description
The 3 in 1 HEPA purifier is ideal for most small rooms. It offers three speed controls, with the low setting running almost silent, making it a great home or office air purifying solution. This GermGuardian model kills airborne viruses, mold spores, and bacteria with the help of its UV-C light, and it sports a compact, appealing design.
Rating
Specifications
Manufacturer: GermGuardian
Price: $51.00
Dimensions: 7.5 x 6.4 x 10.4 in
Watts: 80
Weight: 6.2 lbs
Warranty: 1 year
Weighted User Rating: 4/5
Type: Air Purifier
Performance
When it comes to the performance, this product excels in quality and efficiency. It's a great solution for those suffering from allergies or respiratory issues. The powerful filter pairs with the optional UV-C light to dramatically improve indoor air quality. Note the filter should be replaced every 6 months. It cleans roughly 100 square feet indoors.
Features
This GermGuardian air purifier comes with few features but performs well with its no-frills design. It has three speeds that can be used to customize air flow and an ultra-quiet operation mode to limit noise. It can be left on continuously and has an on/off switch for the UV light if users prefer a filter-only mode.
Safety
The GermGuardian AC4100 air purifier works very well as a household air purifier. It's a user-friendly product in a convenient size that doesn't come with any major safety concerns. Note that this model uses UV light to target germs, which can sometimes produce ozone.
Takeaways
This air purifier easily traps unwanted air particles like pollen, dust, and pet dander, while also removing smells and germns. It has got a compact design that fits well in most spaces and a three stage filtration process to create a clean and safe environment for breathing. You'll want to replace the filter at least once every 6 months for peak performance.