Everlasting Comfort Cool Mist Humidifier Review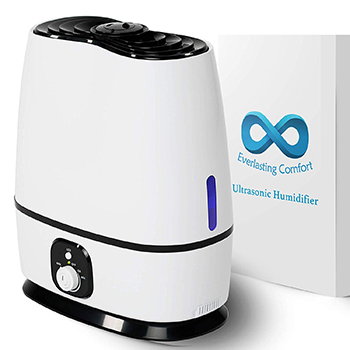 This is a large capacity (6L) cool mist humidifier is a powerhouse that also comes with an essential oil tray diffuser. It can consistently humidify a full-sized room for up to 50 hours in between refills. Its ultrasonic technology ensures an ultra-quiet operation, and the filterless design makes it easy to maintain, giving you a good value for the money.
Buy Here
$50.00
---
Description
This humidifier comes in a sleek housing that holds 6L and lasts up to 50 hours in between refills, all while taking up surprisingly little space on your nightstand or your living room floor. Compared to its competitors the, Everlasting Comfort Ultrasonic Cool Mist Humidifier provides a fantastic "capacity-per-dollar" value. It has a whisper quiet operation and works simultaneously as a humidifier and a diffuser. The separate essential oil tray at the bottom of the device makes it easy to clean and refill the water tank when using it as a diffuser.
Rating
Specifications
Manufacturer: Everlasting Comfort
Price: $50.00
Dimensions: 14.4 x 12.4 x 7.9 in
Watts: 22
Weight: 4.41 lbs
Warranty: 2 years
Weighted User Rating: 4.1/5
Type: Mid-sized Humidifier
Performance
This humidifier produces a high mist output (270ml/hr) using 22 watts of power. It easily covers up to 400 sq. ft. of indoor space. The large 6L water reservoir conveniently delivers up to 50 hours of runtime in between refills, and it operates quietly.
The separate tray for essential oils helps to prevent water contamination when using the device as a diffuser, making the overall cleaning process fast and easy.
Features
The Everlasting Comfort Ultrasonic Cool Mist Humidifier comes with a 360-degree nozzle that can be manually adjusted to change the direction of the mist when needed without having to move the entire device. At the bottom of the humidifier, there's a separate essential oil tray that can be removed to refill and clean. It's connected to a fan to help disperse the aroma into the mist output without contaminating the water.
Safety
The automatic shutoff feature of the humidifier turns off the device when the water reservoir is empty. This prevents any overheating damage to the product and surroundings. For further safety, the manufacturer recommends removing the water tank from the base and covering the bottom with a towel when refilling.
Takeaways
As a high-capacity and high-output humidifier with a long run time, this Everlasting Comfort humidifier is a solid choice for anyone looking to buy a humidifier (or diffuser) to humidify a medium to large room without refilling every evening.
The separate essential oil tray is a convenient addition when compared to similar dual purpose humidifier/diffuser products since it helps keep the water tank uncontaminated, making it easy to clean and increasing the durability of the product. Due to the no-filter design, the maintenance of the device does not require changing of filters.
Overall, it's a thoughtful and innovative humidifier that's user friendly, efficient, and slightly stylish at the same time.