Vicks Filter-Free Ultrasonic Visible Cool Mist Humidifier Review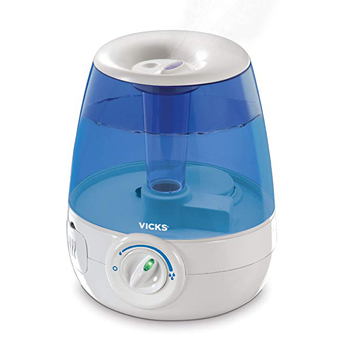 This small and efficient cool mist humidifier can be used as a regular humidifier or in conjunction with Menthol Scented Vicks Vapo Pads to provide relief for cough and congestion. It uses ultrasonic technology to quietly produce a soothing cool mist. The volume of the mist can be customized, and it has an auto-shutoff feature for safety.
Buy Here
$35.00
---
Description
This cool mist humidifier has a 1.2-gallon capacity water tank, delivering up to 30 hours of run time between refills. Created by Vicks to work with their Mentho Scented VapoPads, it can also be used as an everyday humidifier. It doesn't come with a filter, making it easy to clean and maintain.
The transparent water reservoir helps users to easily keep track of the water, and the whisper quiet operation with customizable mist output makes it a great addition to bedrooms and nurseries without disturbing sleep.
Rating
Specifications
Manufacturer: Vicks
Price: $35.00
Dimensions: 10.9 x 9.4 x 13.5 in
Watts: 60
Weight: 4 lbs
Warranty: 3 years
Weighted User Rating: 3.7/5
Type: Mid-sized Humidifier
Performance
With a power consumption of 60 watts, the Vicks Cool Mist Humidifier delivers a steady mist to cover small and medium-sized rooms. It can be used with the Vicks scent pads or other liquid inhalants if necessary.
The no-filter design makes maintenance easy, requiring a quick wipe down in between refills – which is easy due to the wide opening at the top of the tank.
Features
This Cool Mist Humidifier comes with a Vicks VapoPad Slot on the side, allowing up to 2 Vicks VapoPads to give users up to 8 hours of relief. The variable humidity control knob adjusts the mist output to a customized volume. It uses ultrasonic frequency vibrations to spread water particles, quietly propelling the produced mist outside from the nozzle at the top.
Safety
The automatic shut off function turns off the device when water in the tank gets to a minimal level. When using tap water, there can be a mineral build up in the water tank with time, which can be reduced by wiping off the empty tank in between refills.
Note that using essential oils is not recommended in this machine since it can cause damages and affect the durability of the device.
Takeaways
Overall, Vicks No-Filter cool mist humidifier is an affordable choice for households looking for a simple and effective humidifier, especially for those who need medicated vapors to treat congestion problems. The device is very user-friendly with easy to use controls, quiet operation, and simple cleaning. Keep in mind that mineral deposits can form when using tap water in the tank.
If you're looking for a top perfomring humidifier with a stylish exterior, this might just be your match.