ecobee4 Smart Thermostat Review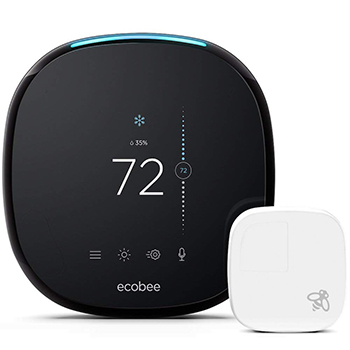 This ecobee thermostat is a carefully engineered smart thermostat built for the modern dynamic household. With its smart features, this model operates HVAC systems at peak performance and efficiency. It comes with Amazon Alexa Voice service built inside and includes one free room sensor. The ecobee mobile app allows for remote operation.
Buy Here
$240.00
---
Description
The ecobee4 smart thermostat is made for busy households that require advanced functionality. It can send you smart alerts and reminders when there's something wrong, whether it's for your furnace filter, extreme temperature, or humidity levels. As an Energy Star certified thermostat, it provides excellent energy-savings.
With the built-in Amazon Alexa Voice service, ecobee4 can perform many skills. All you have to do is ask – it can even hear you from across the room. It's embedded with microphones with far-field voice recognition and a speaker engineered for clear voice and full sound.
Rating
Specifications
Manufacturer: ecobee
Price: $240.00
Dimensions: 4 x 1 x 4 in
Weight: 1 lb
Warranty: 3 years
Weighted User Rating: 4.3/5
Type: Thermostat
Performance
The ecobee4 is a powerful smart thermostat that can be controlled via its display, voice control, or mobile app. It's able to use room sensors that measure both temperature and occupancy to optimize HVAC settings, whether you're home or not. It helps save energy and is hardwired.
Features
This thermostat comes with a wide range of powerful features. The wireless room sensors, voice control, and smart alerts are highly useful. Home IQ shows how much energy has been conserved each month, giving valuable insight into heating and cooling equipment. It's almost like a home energy.
Be sure to check compatability with your own HVAC system before making any purchase.
Safety
The ecobee4 is designed for 24VAC with a 2A maximum current. Do not connect it to line (high) voltage or millivolt systems. It works to monitor HVAC equipment performance and send alerts if anything isn't working properly. It also provides service reminders to help you maintain your equipment.
Like any other thermostats, this should be located on an inside wall, about five feet up from the floor and must be protected from any liquids or excessive moisture. If you need help installing the thermostat, contact a professional.
Takeaways
Overall, the ecobee4 Smart thermostat is one of the most powerful (and best looking) smart thermostats available. Packed with advanced features, owners will be able to customize indoor environments, save energy, and control settings remotely. It's certainly more expensive than most other smart thermostats, but its performance is hard to beat.