Emerson Sensi Touch Wi-Fi Thermostat Review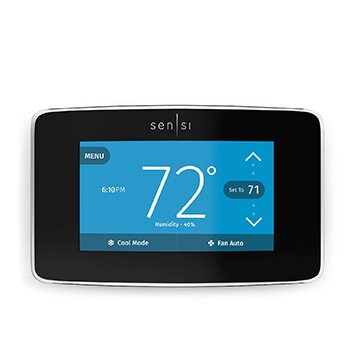 This Emerson thermostat is one of the best in the market. It sports a sleek and modern appearance, comes with a touch screen display, is Wi-Fi capable. With additional features like alerts, color shift, humidity reading, and geofencing, it's perfect for a modern household.
Buy Here
$140.00
---
Description
The Emerson Sensi Touch Wi-Fi Thermostat is one of the leading modern thermostats that comes with a variety of smart features, including the ability to work with Amazon Alexa. Although a bit pricier than other thermostats, it offers enhanced functionality. It's easy to set up and includes a step-by-step process in the Sensi mobile app.
This aesthetically pleasing theremostat has a modern-looking display, touch screen, and back glow (aka night light) perfect for evening or low lighting. It also includes a color shift to let you know at a glance whether your system is heating or cooling. It also provides weather updates and humidity reading.
Rating
Specifications
Manufacturer: Emerson
Price: $140.00
Dimensions: 5.63 x 1.17 x 3.4 in
Weight: 0.85 lbs
Warranty: 3 years
Weighted User Rating: 4.2/5
Type: Thermostat
Performance
The Emerson Sensi is designed to operate like a standard thermostat while providing additional flexibility to connect to a Wifi network at installation or let you connect to it later using the Sensi app. It offers extensive compatibility with a wide range of HVAC systems and can help help owners save money with its flexible scheduling using the Sensi app.
Features
This thermostat includes a wide range of features. Smart Alerts let you know when extreme temperature or humidity changes are detected. Automatic Upgrades ensure your thermostat software is kept up-to-date automatically. Humidity readings and weather updates let you track local weather. Flexible brightness options allow customization of the display and backlight. Finally, geofencing lets the Emerson Sensi use your smartphone location to change temperature settings when you leave and before you return.
Be sure to check compatability with your own HVAC system before making any purchase.
Safety
Like any other thermostats, this should be located on an inside wall, about five feet up from the floor and must be protected from any liquids or excessive moisture. If you need help installing the thermostat, contact a professional.
Takeaways
Overall, the Emerson Sensi Touch Wifi Thermostat is a standout option when choosing a modern smart thermostat, especially if design is a major cnosideration. With its modern appearance and advanced features, it's a great fit for technologically advanced buildings.
You can set, change and program your home comfort from anywhere and through your mobile devices. Although it's a bit more expensive than the other standard thermostats, it's designed to be a smart and energy-efficient addition to any HVAC sytem.