Honeywell RTH6580WF Thermostat Review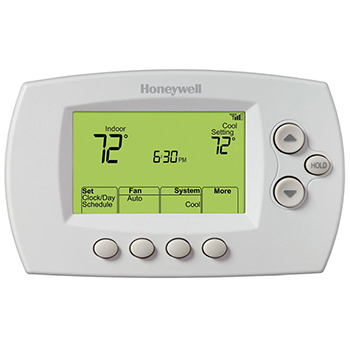 This Honeywell thermostat is a little different than your typical smart thermostat. It may not look fancy, but it's actually a Wifi-capable home (or office) appliance. It sports a simple interface that can be supported using connected devices like smartphones and tablets. It's a humble yet capable thermostat that comes at a relatively affordable price.
Buy Here
$70.00
---
Description
The Honeywell RTH6580WF thermostat is a programmable thermostat that offers extra smart features. It doesn't have a fancy screen display, but it does give users remote control through its own mobile app, where users can control the temperature and customize settings. It even works with Amazon Alexa for voice control.
This thermostat offers 7-day programming with 4 program periods per day. Users can group days that have the same schedule or customize it for each day. It also learns your preferred heating and cooling cycles via its smart response technology.
Rating
Specifications
Manufacturer: Honeywell
Price: $70.00
Dimensions: 5.75 x 1.5 x 3.5 in
Weight: 1.2 lbs
Warranty: 1 year
Weighted User Rating: 4.2/5
Type: Thermostat
Performance
The Honeywell RTH6580WF is a very affordable smart thermostat that offers advanced features. Its familiar interface and large, easy-to-read display is simple to use and looks unassuming. It offers extensive compatibility with HVAC systems, keeps working during power failures, and adjusts for daylight savings time.
Features
This Nest thermostat comes with a number of useful features. Its Smart Response Technology ensures energy efficiency by learning your preferred settings and optimizing operation to deliver the right temperature at the right time. The 7-day programmable functionality allows a high range of customization. It offers few more benefits like voice command with Alexa and an accompanying mobile app.
Be sure to check compatability with your own HVAC system before making any purchase.
Safety
This Honeywell thermostat is not compatible with 110-volt or greater systems such as electric baseboard heat. It has no reminders to tell you that you need to change your filter.
Like any other thermostats, this should be located on an inside wall, about five feet up from the floor and must be protected from any liquids or excessive moisture. If you need help installing the thermostat, contact a professional.
Note that a C wire is required and is the primary power source.
Takeaways
Overall, the Honeywell RTH6580WF is a solid thermostat available at a very reasonable price. It may not look sleek or particularly modern, but it offers easy controls and basic smart features. Its voice command functionality makes it a good fit for those used to Alexa or Google Home. While it doesn't send smart alerts (around filter changes or furnace usage), it can save users quite a bit on energy compared to traditional systems.
If you're looking for an affordable, practical smart thermostat with basic functionality, the Honeywell RTH6580WF might be just what you're looking for.