Nest T3007ES Thermostat Review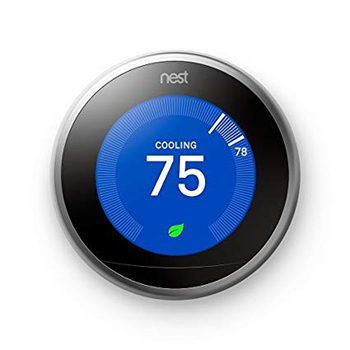 This Nest thermostat is a top performing smart thermostat and is also Energy Star certified. It learns from your behaviors to optimizes the indoor temperature temperature and build a personalized schedule for you. The large modern screen display enables you to see important details from across the room. Packed with smart features such as safety alerts, furnace heads-up, and filter reminders, it's a fantastic addition to a modern HVAC system.
Buy on Amazon
$200.00
---
Description
The Nest T3007ES thermostat is one of the best-performing (and aesthetically-pleasing) smart thermostats in the market. Built with smart and energy-saving features, it also comes in multiple variations (copper, stainless steel, black, and white) to match different decor.
It helps save energy by learning habits and adjusting accordingly. The Farsight display feature allows you to read the bright screen from across the room, and its near-field sensor senses when you're close to show the time. The home/away assist helps you save energy by shutting off when nobody's home.
Rating
Specifications
Manufacturer: Nest
Price: $200.00
Dimensions: 3.33 x 1.2 x 3.3 in
Watts: 0.123
Weight: 1 lb
Warranty: 2 years
Weighted User Rating: 4.6/5
Type: Thermostat
Performance
The Nest T3007ES thermostat is a powerful smart thermostat with a unique design. The interface and controls are digital, and you can remotely access it using a smartphone, tablet, or laptop. It may be a little more expensive than other smart thermostats, but it's a reliable model built on cutting edge technology.
Features
This Nest thermostat comes with a number of impressive features. The Safety Temperature Notification alerts users whenever a home is getting too hot or too cold. Filter Reminders alert users to change the filter regularly and keep track of how many hours your system runs so you get accurate measurements. Farsight beautifully displays a bright screen that's readable from across the room. It can sense when you're near and automatically light up to show you time, temperature, or weather. You can even choose a digital or analog clock face. It can also track your energy usage to see how much energy you use and find ways to improve.
Be sure to check compatability with your own HVAC system before making any purchase.
Safety
Professional installation is recommended for dual fuel systems, and whole-home humidifiers and dehumidifiers. The Nest Thermostat works with most 24V systems, including gas, electric, oil, forced air, variable speed, and heat pumps.
Like any other thermostats, this should be located on an inside wall, about five feet up from the floor and must be protected from any liquids or excessive moisture. If you need help installing the thermostat, contact a professional.
Takeaways
Overall, the Nest T3007ES is a highly recommended thermostat for any modern household. It's an energy-saving, quick-learning, and reliable HVAC addition that has the added benefit of remote access via wifi.
Its wide range of sleek designs can match most interior design, and even though it's not cheap, this thermostat solution can take your home heating and cooling to the next level while saving you money.
---
Other Recommended Reviews