The 5 Best Portable and Whole-House Swamp Coolers | Buying Guide
As the summer weather approaches, it's time to get your cooling system ready to tackle those hot summer days and nights. While you may consider an air conditioner the best way to keep your home cool, an evaporative cooler or swamp cooler can keep your home cool and comfortable while offering additional benefits as well.
Before you decide to purchase a swamp cooler, it's important to understand if a swamp cooler is right for you. To make the best choice, you have to keep in mind the humidity in the area where you live and the type of cooling system you already have. Swamp coolers don't work well in areas of high humidity because they use water to cool the air within the unit before blowing the cooler air into your home, so you want to make sure your climate is ideal for using an evaporative cooler.
If you're already using an AC unit to cool your home, then you may want to consider adding a portable swamp cooler to provide additional cooling in certain areas of your home. If your home uses a rooftop or a through window/wall swamp cooler, then upgrading to a newer unit will help provide cooler air and lower energy bills.
Keep in mind that the cost of a swamp cooler is lower than an air conditioner, and installation is easier and less time-consuming, so they are an excellent choice for cooling when temperatures get high. Here is a list of the four best swamp coolers and how they can help you beat the heat this summer.
Portable Evaporative Coolers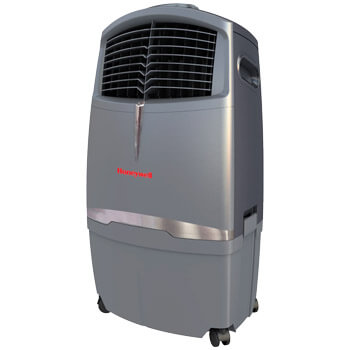 If you're looking for a portable swamp cooler that's easy to move and handle, then the Honeywell CO30XE may be the perfect solution. This unit can cool a mid-sized area and still keeping your energy bill low. Instead of cranking up the AC, this portable swamp cooler can be used in primary living spaces to maintain moisture-rich cool air. The unit also features an ice compartment that provides even colder air. One weak point in many portable swamp coolers is that the water tank must be monitored and kept full, but this unit offers a connection for continuous water flow that will keep water levels at optimum levels.
Learn more about the Honeywell CO30XE Portable Evaporative Cooler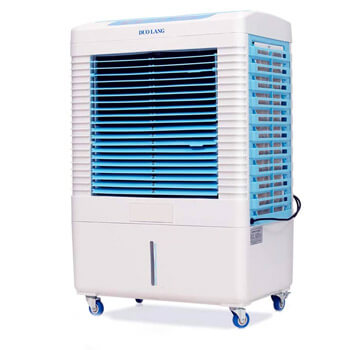 The Duolang DL-4501 pulls a modest 200 watts of energy. With this low energy consumption, the DL-4501 is ideal for use for extended periods of time. The unit also features a large 10-gallon reservoir tank that's easy to fill and will hold water for a long time before it needs refilling. This unit is a great choice for those areas in the home where there's no ductwork or vents for AC air to enter the room.
Learn more about the Duolang DL-4501 Portable Evaporative Cooler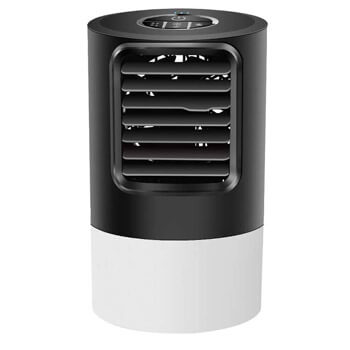 The Peodelk Compact Evaporative Cooler is designed to supplement your current cooling system. The small compact design is made for desktop or countertop placement and will keep the air in a small room or office moist, cold, and comfortable. If you live in a small apartment or spend most of your time in one room of your house, then this is the perfect unit to keep a single room cool without the high energy cost of constantly running your AC.
Learn more about the Peodelk Compact Evaporative Cooler
Whole-House Swamp Coolers
There are two basic types of whole-house swamp coolers: downdraft and side-draft. Downdraft units are usually placed on the roof, while side-draft units are mounted outside the home. Once installed, the cold air is blown through either the window or a vent cut into the wall. Contact an HVAC professional to help you with the size requirements and installation of a new outdoor swamp cooler. To help you choose, here are two of the top whole-house swamp coolers.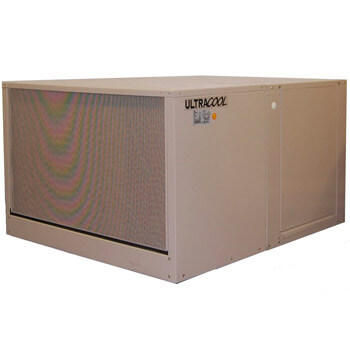 This powerful evaporative cooler can cool up to 2300 square feet of living space, and it's ideal for large homes and provides cool air at a much lower cost than an AC unit. Like all whole-house swamp coolers, the MasterCool 7000 CFM is hooked up to a continuous water source to maintain water levels. This unit requires little maintenance and uses less energy than older swamp coolers and AC units.
Learn more about the MasterCool 7000 CFM 115V 2 Speed Down Draft 12" Media Evaporative Cooler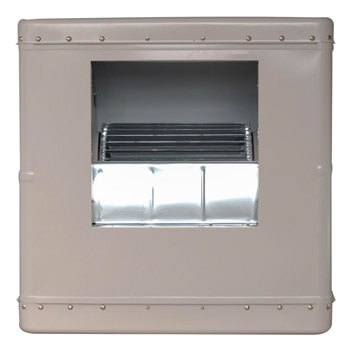 If your roof can't support a rooftop swamp cooler, then a side-draft cooler may be the perfect solution. The Champion 4600 CFM Side-draft is a perfect unit for cooling smaller homes and spaces up to 1600 square feet through a window or wall vent. This unit is easy to install and features a remote control for easy operation.
Learn more about the Champion 4600 CFM Side-Draft Wall/Roof Evaporative Cooler
Swamp coolers aren't the best fit for every home, but they are an excellent choice to help to lower energy bills, maintain moisture within indoor climates, and keep your home cool and comfortable.
Good luck on your next purchase, and be sure to check out our other guides for more recommendations.
Published on 2020-05-03 by Ben Travis
Last updated on 2020-06-10
---
Recommended Reading