The 5 Best Portable and Whole-House Swamp Coolers | Buying Guide
If you live in a dry and hot area, it might just be time to re-evaluate your indoor cooling system to better tackle those hot summer days and nights. While most people generally consider air conditioners the best way to keep indoor areas cool, an evaporative cooler or swamp cooler can often keep buildings cool and comfortable while offering additional benefits.
Before you decide to purchase a swamp cooler, it's important to understand if a swamp cooler is right for you. Swamp coolers don't work well in areas of high humidity because they use water to cool the air within the unit before blowing the cooler air into your home, so you'll want to make sure your climate is ideal for using an evaporative cooler. If you need help, use this evaporative cooling zone map as a reference. Note that alternatives include portable AC units and window AC units.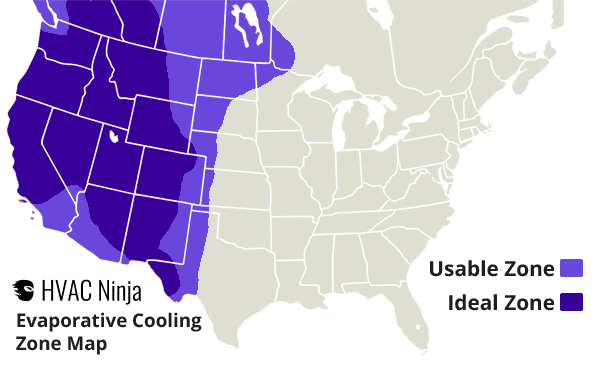 If you're already using an AC unit to cool your home, then you may want to also consider adding a portable swamp cooler to provide additional cooling to specific areas of your home. If your home uses a rooftop or a through-window/wall swamp cooler, then upgrading to a newer unit could expand your cooling capability and even lower energy bills.
Keep in mind that swamp coolers are generally cheaper than air conditioner, and installation is easier and less time-consuming, so they can be an excellent choice for cooling indoor spaces if your climate is right. Here's a list of the best swamp coolers and how they can help you beat the heat this summer:
Portable Evaporative Coolers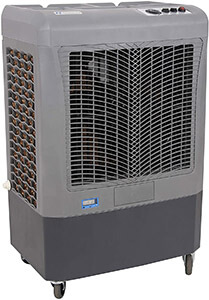 How about an evaporative cooler for larger space? Hessaire's line of evaporative coolers is excellent, and the MC37M model cools spaces up to 950 square feet. This evaporative cooler uses the latest air flow technology to keep indoor and outdoor spaces cool, whether you're cooling a home, office, patio or workshop space.
For the amount of cooling power it provides, this Hessaire model is surprisingly compact at about 3 and a half feet tall and 2 feet wide. The Continuous Fill feature allows you to attach a hose and automatically fill the water tank, and its simple controls make operating even easier.
This model works best for those who value strong cooling power and portability. With a 10.3 gallon tank, you can also bring it for special occasions. And if you need XL cooling power, try its cousin, the C92 that can cool 3,000 square feet.
Learn more about the Hessaire MC37M Portable Evaporative Cooler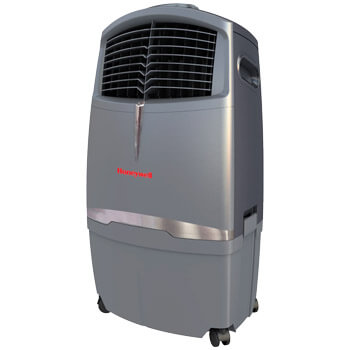 If you're looking for a portable swamp cooler that's easy to move and handle yet powerful, then this Honeywell model may be the perfect solution. This unit can cool a mid-sized area and while keeping your energy bill low and your space humidified. Instead of cranking up the AC, this portable swamp cooler can be used in primary living spaces to maintain moisture-rich cool air.
The unit features an ice compartment that provides even colder air, and its remote control allows for even easier operation. Its filter uses Active Carbon and also acts as a dust filter to further improve air quality. It also uses super low power consumption, at 288 watts.
Learn more about the Honeywell 525-790CFM Portable Evaporative Cooler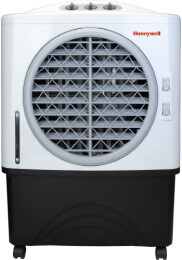 For another Honeywell option, consider their CO48PM model. It's a powerful, weatherproof model with a larger sized tank than the CL201AE. It can be used outdoors and features Honeywell's Triple-sided Honeycomb design as well as a dedicated ice compartment.
Learn more about the Honeywell CO48PM Portable Evaporative Cooler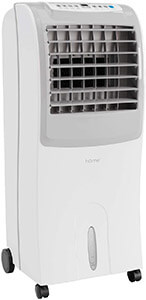 The hOmeLabs Evaporative Cooler pulls a modest 130 watts of energy and can cool rooms up to 200 square feet. With this low energy consumption, it's ideal for extended use. Its slim profile means that it can fit into most rooms easily, and the 24-hour programmable timer helps save even more energy.
The unit also features a 10-liter reservoir tank that's easy to fill and will hold water for a long time before it needs refilling. This unit is a great choice for those areas in the home where there's no ductwork or vents for AC air to enter the room.
Learn more about the hOmeLabs Evaporative Cooler
Whole-House Swamp Coolers
There are two basic types of whole-house swamp coolers: downdraft and side-draft. Downdraft units are usually placed on the roof, while side-draft units are mounted outside the home. Once installed, the cold air is blown through either the window or a vent cut into the wall. Contact an HVAC professional to help you with the size requirements and installation of a new outdoor swamp cooler. To help you choose, here are two of the top whole-house swamp coolers.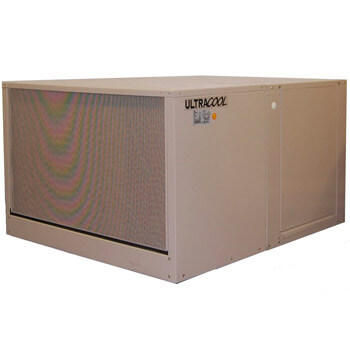 This powerful evaporative cooler can cool up to 2,200 square feet of living space. It's ideal for large homes and provides cool air at a much lower cost than an AC unit. Like all whole-house swamp coolers, the MasterCool 7000 CFM is hooked up to a continuous water source to maintain water levels. This unit requires little maintenance and uses less energy than older swamp coolers and AC units.
Learn more about the MasterCool 7000 CFM 115V 2 Speed Down Draft 12" Media Evaporative Cooler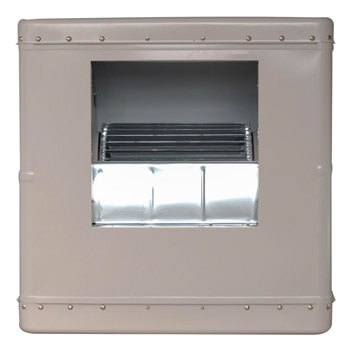 If your roof can't support a rooftop swamp cooler, then a side-draft cooler may be the perfect solution. The Champion 5,000 CFM Side-draft is a perfect unit for cooling smaller homes and spaces up to 1,750 square feet through a window or wall vent. This unit is easy to install and features a thermoplastic water reservoir to prevent corrosion.
Learn more about the Champion 5000 CFM Side-Draft Wall/Roof Evaporative Cooler
Swamp coolers might just be the right fit for your home or business, and they're an excellent choice to help to lower energy bills, maintain moisture within indoor climates, and keep your home cool and comfortable.
Good luck on your next purchase, and be sure to check out our other guides for more recommendations.
Still have questions? Ask an HVAC expert directly via chat or phone.
Published on 2020-05-03 by Ben Travis
Last updated on 2022-07-08
---
Recommended Reading