Top Basement Dehumidifiers | Buying Guide
Basements are notorious for not only being dark but humid. When this part of your home or business is humid, it can cause mold growth, musty odor, and even structural damage. Overall, a dank basement can be both unpleasant to live in and potentially harmful to your house.
Why do basements get so humid? Three main reasons: excess groundwater, humid outdoor air/soil, or interior moisture. To remedy the situation quickly and affordably, consider investing in dehumidifier.
Why It's Important to Get A Basement Dehumidifier
A basement dehumidifier will help you manage problems related to basement moisture and condensation. Once your basement humidity levels rise to more than 50%, your basement is at risk. Dehumidifiers can be great solutions to keep humidity levels low in a well-sealed basement.
With a dehumidifier, you should expect an improvement in indoor air quality and smell in your home!
About Unit Size
The size of your basement and its default humidity levels are two things to consider when shopping for a dehumidifier. Unit sizes are based upon the amount of moisture that they're able to eliminate in a day. Calculate the size of your basement before you commit to buying a dehumidifier.
Basements that are bigger and wetter require more powerful dehumidifiers. For instance, if your basement measures over a thousand square feet and is very damp, then you'll want to purchase something like a 50 pint dehumidifier, which is a large unit. A medium-sized dehumidifier is powerful enough to remove 25 to 35 pints of moisture for rooms around 700 square feet, while a small unit can handle 15 to 20 pints of moisture.
Top Three Dehumidifiers
Did you measure yet? Great! Here are our recommended solutions: the best units range in cost, size and features.
The Best Large Dehumidifier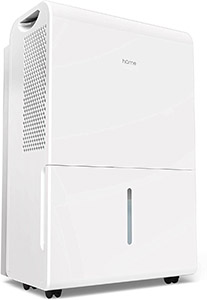 The hOmeLabsEnergy Energy Star Dehumidifier for Extra Large Rooms and Basements includes an impressive water tank capacity that removes up to 50 pints. It's housed in a sleek frame and comes with simple features that make operating it a breeze. It also comes in smaller models for medium (35 pints) and small areas (22 pints).
It has a digital display that will help you monitor your basement's current humidity levels. It also includes a window that tells you when the filter needs to be changed. For constant drainage, this model includes a drain hose outlet (though you'll have to get your own hose).
The dehumidifier is easy to move and store since it features wheels and side handles. Fortunately, it's also very quiet when it runs.
Learn more about the hOmeLabs Energy Star Dehumidifier
The Best Medium Dehumidifier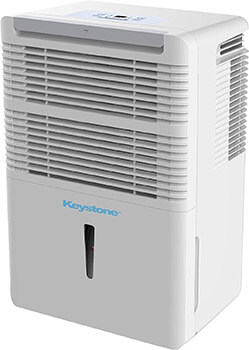 We recommend the Keystone Dehumidifier with Electronic Controls for medium spaces. This unit comes in both 50 pint and 30 pint models and features an intuitive electronic control system. It comes with useful features like an LED display that you can use to program the proper humidity levels in your basement.
The Keystone unit comes with a sensor that detects when frost is building up on the coils, a common issue for dehumidifiers. It will then activate a fan to melt it.
Keystone designed the unit with an automatic shut-off function that deactivates the dehumidifier when the water tank is too full. It also has a drainage hose outlet that you can install when you need a dehumidifier with a floor drain function.
Learn more about the Keystone Dehumidifier with Electronic Controls
The Best Small Dehumidifier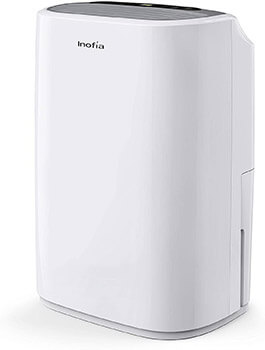 The Inofia 30-pint Dehumidifier is one to consider for smaller basements. It's a compact model that comes with a great-looking exterior design that you can easily tuck into a corner. This Inofia unit comes with an automatic power cut-off sensor that deactivates the device when it's filled to maximum capacity or preferred humidity level.
This dehumidifier is quiet enough to use while sleeping and will automatically restart in the event of a power interruption.
The Inofia Dehumidifier provides manual and automatic drainage. Also, it includes an alarm notifying you that the tank is full, so you'll know right away when you need to empty it.
Learn more about the Inofia Dehumidifier for Home Basements
Protect Your Basement from Humidity
A dehumidifier can be an excellent solution for anyone who needs to remove dampness from their basement. It can protect you and your family while making the space more comfortable.
With one of the best dehumidifiers in your basement, you'll be able to use this area of your home as a living space (or at least keep your possessions and house a little safer).
Good luck on your next purchase, and be sure to check out our other guides for more recommendations.
Still have questions? Ask an HVAC expert directly via chat or phone.
Published on 2020-07-29 by Ben Travis
Last updated on 2021-08-03
---
Recommended Reading