Top Attic Fans | Buying Guide
Most people have no idea what an attic fan is or what it does. To make things clear, an attic fan is not simply a fan that you plug into a wall outlet and place in your attic like would any other room or space in your house. Attic fans, also known as whole-house fans, are attached to the floor of your attic and are designed to cool your attic and home using the outside air.
Proper installation and placement of attic fans are key when it comes to maximizing efficiency. Attic fans are usually placed above a hallway or living space to provide air circulation for the entire house by creating a negative pressure air system within the home. Attic fans can also be placed on the roof directly above the attic, or an exterior wall to remove hot air and moisture from attics.
There are many benefits to having an attic fan installed in your home. However, choosing the most suitable attic fan for your home is crucial if you want to save money and cool your home during warm days and nights without having to run your AC. To help you decide, here's a list of the best six attic fans on the market today.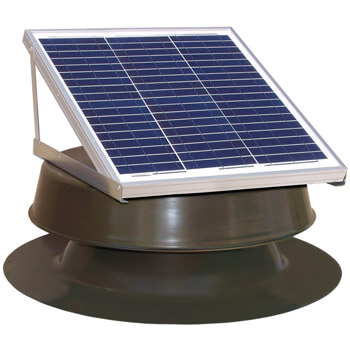 Attic fans can use 700 to 1000 watts of electricity. All things considered, that's not a huge amount of energy, but it can add up over time. The Solar Attic Fan - Florida Rated by Natural Light is a 36-watt solar-powered attic fan that can be mounted on asphalt or fiberglass-asphalt shingled roofs.
The unit is perfect for lowering energy bills since it operates on solar power. This fan is ideal for large attic spaces and can move hot air and moisture from up to 2625 square feet of attic space. While this isn't a whole-house fan, it does keep outdoor air passing throughout large attic spaces and is ideal for all types of attic living spaces.
The solar-powered feature of this unit makes it ideal for use throughout the day without worry over increased energy bills.
Learn more about the Solar Attic Fan - (Florida Rated) by Natural Light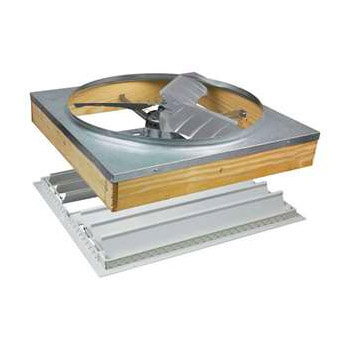 This is a direct drive whole-house fan that can pull air from homes up to 1500 square feet in size. This fan features an automatic shutter and easy installation. When it comes to keeping your home cooler at night without running the AC and allowing fresh outdoor into your home, this whole house fan is an excellent choice.
Air Vent Inc. 24" Whole House Fan 54301 Attic & Whole House Fan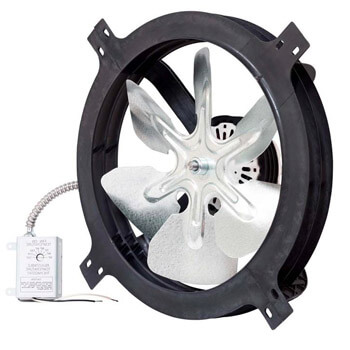 This fan is ideal for homes up to 1500 square feet and is simple to operate and easy to install. This whole-house fan uses 180 watts of electricity, so it's ideal for continuous overnight home cooling.
Air Vent Gable Ventilator 53315 Attic and Whole House Fan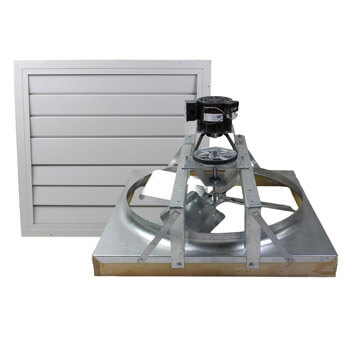 For houses with very large attics, the Cool Attic CX30BD2SPD Belt Drive 2-Speed Attic Fan is the perfect solution for returning hot air and moisture with cool outdoor air. This is designed for homes with 2,000 to 3,000 square foot attics. This whole-house fan is powerful yet quiet and is ideal for keeping homes cool and comfortable by pulling in fresh outdoor air and expelling warm air up and out through attic vents.
Cool Attic CX30BD2SPD Belt Drive 2-Speed Attic Fan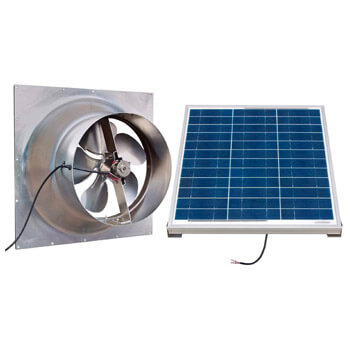 This attic fan can be easily installed in under two hours and is designed for removing hot air and moisture from attics constantly as long as solar power is available. Powered by a 24-watt solar panel, the unit is energy efficient and will help to lower energy bills. This fan also features an optional Solar Attic Thermostat for colder weather conditions and climates.
Natural Light Gable Mounted Solar Attic Fan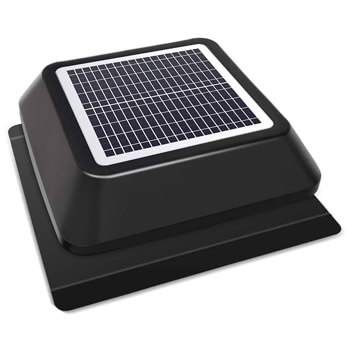 The HQST Solar-Powered Roof Mount Attic Fan is a great choice for keeping attics cool during warm days and is an excellent choice for homeowners on a budget. This fan is cost-effective and can efficiently lower temperatures in attics up to 1,076 square feet in size. This fan is extremely versatile and can be easily installed on almost any type or style of roof.
HQST Solar-Powered Roof Mount Attic Fan
An attic fan is not intended to replace your home's cooling system, but attic fans are an excellent way to lower your energy bills and keep your attic and home cool and filled with fresh outdoor air without continuous use of your AC. Consult an HVAC professional on the best type of attic fan for your needs, and always get professional advice before installing any attic fan DIY.
Good luck on your next purchase, and be sure to check out our other guides for more recommendations.
Published on 2020-06-10 by Ben Travis
Last updated on 2020-06-10
---
Recommended Reading