The Best Oil-Filled Heaters | Buying Guide
With a combination of both convection and radiant heating, oil-filled heaters use heating elements to warm oil inside an appliance, which is then spread more evenly throughout indoor spaces. Also referred to as radiators, oil-filled heaters offer a low-noise solution, and despite the name, don't involve actually burning any oil.
Though they can be costly to run if used in large rooms, moving oil-filled heaters to smaller spaces and using a thermostat to regulate temperature can vastly increase efficiency household HVAC. These types of space heaters also provide a potentially safer alternative to other types of heaters because of lower surface temperatures.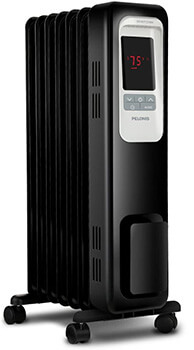 For those looking to heat large rooms with an an electric radiator, the PELONIS Electric Radiator Heater is a great choice. It comes with a number fo customization options, including three heat settings and an "ECO" mode that can also be set with the accompanying remote.
This reliable model also features a digital thermostat to help regulate room temperature over time. You also have the option using the anti-freeze setting to protect nearby any nearby pipes. For maximum portability, this model includes four wheels to help you glide around indoor spaces.
Learn more about the PELONIS Electric Radiator Heater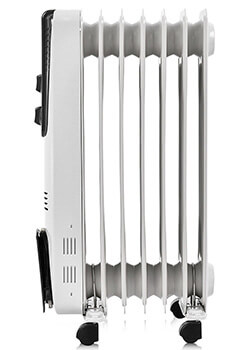 If you're looking for an oil-filled heater on the smaller side, you'll do well to consider COSTWAY's compact model. It doesn't take up much space, so you can place it almost anywhere.
While it won't heat up whole homes, it can warm up small rooms quite nicely. This 700 watt model is quiet, portable, and energy-efficient. Measuring 5.5 x 12 x 14 inches, it can fit in most rooms quite nicely, and it even comes with a front carrying handle to make transportation even easier.
The heater's adjustable thermostat gives you the ability to set it wherever you want it. The Costway Oil Filled Heater has an auto shut off feature that eliminates the chances of overheating or damage that might follow a tip-over.
Learn more about the COSTWAY Oil Filled Radiator Heater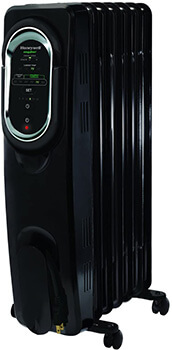 Honeywell has a long-standing reputation for creating high-quality heaters. So, when shopping for a great all-around oil-filled heater, consider the Honeywell HZ-789. Created with Honeywell's EnergySmart technology, it's a great value purchase.
This heater is relatively slim and can be moved around easily since it comes with wheels and a handle. And its digital controls are great at customizing your heating experience. This model will heat up small and medium rooms quickly, taking a little more time for larger spaces. It also comes with a 1-12 hour time and multiple heat settings.
Learn more about the Honeywell HZ-789 EnergySmart Electric Oil Filled Radiator
Find the Right Space Heater for You
We hope you found the above list of oil-filled heaters helpful. When purchasing a heater, make sure to consider factors like size, type, material, and controls to ensure you get one that best suits your needs.
Be sure to follow safety protocols recommended by the manufacturer, keeping heaters away from flammable items, turning off heaters before you leave a room, and plugging electric heaters directly into wall outlets instead of using extension cords.
Good luck on your next purchase, and be sure to check out our other guides for more recommendations.
Still have questions? Ask an HVAC expert directly via chat or phone.
Published on 2020-10-12 by Ben Travis
Last updated on 2021-08-03
---
Recommended Reading