The Best Infrared Space Heaters | Buying Guide
Many people turn to space heaters as an efficient and affordable solution to heat indoor spaces. In our space heater research guide, we shared how space heaters work and the different types of heaters available to consumers. In this buyer's guide, we'll share the best infrared space heaters.
Sometimes referred to as "heat lamps", infrared heaters use radiant heating to warm areas. There are many different materials used in infrared heaters, but the most common are tungsten, carbon, quartz, and aluminum. Touting energy efficiency, infrared heaters are quieter than other heaters and easily warm small spaces and rooms with high ceilings. Another benefit to using these kind of heaters is that they don't dry out the air (or your skin).
Ready to find the right model for you? Let's take a look!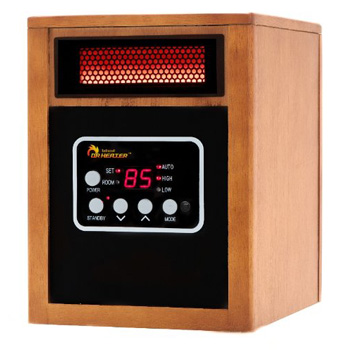 Dr. Heater's infrared portable heater is a maneuverable and reliable heating solution that can quickly warm medium and large rooms. This heater features an advanced dual heating system including a high-efficiency blower, which enables it to heat indoor spaces at a faster rate than its competitors, setting the room at a comfortable temperature while also saving energy.
It's comes with a full set of features, including an easy-to-use digital interface and remote control. There's also a built-in timer that runs up to 12 hours to make things even easier. To move around the Dr Infrared Heater, it's equipped with four bottom wheels.
In terms of safety, it also includes a 5-point safety design, including overheat protection and automatic shut-off at tip-over, making it a good fit for families and those with pets.
You'll also be able to use it for quite a while, since it has a reported lifetime of 80,000 hours and comes with a 3 year warranty.
Learn more about the Dr Infrared Heater Portable Space Heater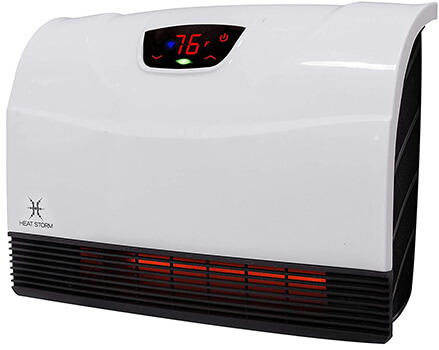 The Heat Storm HS-1500-PHX model is an easy-to-use wall-mounted smart heater. With WiFi-enablement, you can control your a room's temperature directly from your phone. Because it doesn't require any hard-wiring, installation is a breeze.
While the body is a little large compared some other traditional electric wall heaters, this Heat Storm model is a great solution for those who need a "plug and play" option to heat up their space without taking up any floor room.
It's powered by up to 1,500 watts of electricity and comes with safety certification from ETL. With an automatic shut-off, it's also a great model for families. This infrared heater is also available as a floor unit and available in two different colors: white and dark gray.
Learn more about the Heat Storm HS-1500-PHX-WIFI Infrared Wall Heater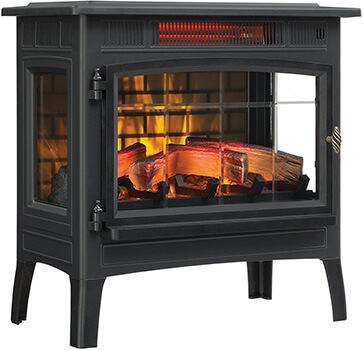 Designed in a more traditional fireplace fashion, Duraflame's DFI-5010 heater is a great choice for those who prefer a rustic touch to their indoor decor. Its high-tech realistic flames and outstanding heating capability makes it an easy favorite for those who are looking for a portable stand-alone infrared heater. It also comes in six different colors to match existing furniture.
The DFI-5010 has a relatively low profile and makes great use of infrared technology, which uses radiant heating to warm areas instead of forced air convection. That means you won't dry out your rooms or build up unnecessary static electricity. There are many different materials used in infrared heaters, and this model uses quartz.
Learn more about the Duraflame 3D Infrared DFI-5010 Electric Fireplace Stove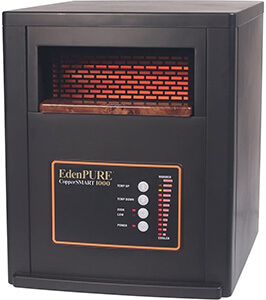 You may have already heard about EdenPURE's CopperSMART infrared heater. It's one of the pricier models on the market but delivers excellent heat indoors.
It's a full-featured heater that has a wide temperature range and excels in zone heating. The big selling point here is the copper heating element that heats up quickly and distributes that heat efficiently via its quality materials and large surface area. It's also highly customizable, with many different heat settings and an accompanying remote.
To increase safety, it includes dual high limit sensors, no elements that are hot to the touch, and a standard tip-over automatic shut-off. If you're looking for top quality and have the ability to pay for it, the EdenPURE CopperSMART infrared heater is a great choice.
Learn more about the EdenPURE CopperSMART
Find the Right Space Heater for You
Infrared space heaters can be a great indoor heating solution for many situations and even reduce energy bills when used correctly. They come in a variety of models, so be sure to take into account your wants and needs before making a purchase.
Be sure to follow safety protocols recommended by the manufacturer, keeping heaters away from flammable items, turning off heaters before you leave a room, and plugging electric heaters directly into wall outlets instead of using extension cords.
Good luck on your next purchase, and be sure to check out our other guides for more recommendations.
Still have questions? Ask an HVAC expert directly via chat or phone.
Published on 2020-10-12 by Ben Travis
Last updated on 2021-08-03
---
Recommended Reading