The Best Electric Patio Heaters | Buying Guide
When cool weather hits but you still want to spend time outside, what's there to do?
Traditional propane-fueled heaters might sound like a good idea, but electric patio heaters can be an even better, safer solution depending on your setup.
In this buyers guide, we'll share the best electric patio heaters to keep you comfortable outside. Ready to find the system that fits your needs?

The Trustech Patio Heater has earned an exceptional reputation because it can rapidly hear up outdoor patio spaces reliably and efficiently. A lot of customers like the fact that this patio heater is ultra-quiet and doesn't generate a whole lot of noise when it operates.
Trustech's Patio Heater uses advanced infrared technology to rapidly heat medium-sized patio spaces within seconds. There are several integrated safety features to ensure that overheating does not take place. If you're looking for an efficient, safe, and reliable patio heater, you should strongly consider buying this cost-effective selection from Trustech.
Learn more about the TRUSTECH Wall-Mounted Patio Heater

Our second selection is the high-quality Patio Heater 1500W Outdoor Heater. This cost-effective product selection might be appealing to customers that want a basic patio heater with effective reliability. The assembly process is fairly straightforward and simple as well. Customers expressed their positive feelings towards the simplified assembly process.
There are three available heating levels that are powered by an efficient 1500-Watt power supply. This patio heater is specifically designed for the outdoors and it can withstand harsh weather conditions because it is completely weatherproof. There are several reasons to consider purchasing this patio heater, and you should factor in the affordable price to see if this is one of the best valued patio heaters for you to consider.
Learn more about the TRUSTECH Standing Patio Heater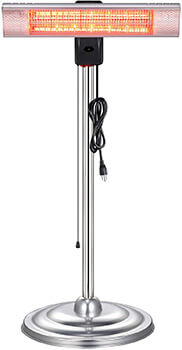 Our penultimate product selection features the highly-reputable Xbeauty Infrared Patio Heater. This product is exceptionally popular and there are not very many left in stock. You should evaluate the product specifications and features swiftly to see if this premium selection is right for you.
We'll start by saying that the assembly process is extremely quick and simple. You could have this infrared patio heater up and running within minutes. The device is designed to operate quietly and is designed to save a lot of energy when compared to other similar patio heater brands. This product is a little bit more expensive than several other competitive brands, although the features on this patio heater are fairly impressive.
Learn more about the Xbeauty Infrared Patio Heater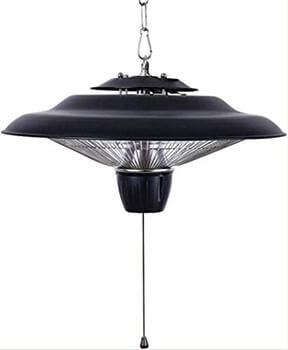 The Air Choice Patio Heater will be the final product that we will take a look at within this product review. This patio heater is a little bit different considering that it is designed to hang down from a hook on your patio from above. You can simply adjust the chain and change the desired height of this outdoor patio heater.
This cost-effective patio heater turns out to be one of the most popular selections in the entire industry. You can expect a safe and reliable heater design with a product warranty that will cover your product for up to two years.
Learn more about the Air Choice Patio Heater
Find the Right Heater for You
We hope you found the above list of patio heaters helpful. When purchasing a heater, make sure to consider factors like size, type, material, and controls to ensure you get one that best suits your needs.
Be sure to follow safety protocols recommended by the manufacturer, keeping heaters away from flammable items, turning off heaters when not in use, and taking precautions for any windy conditions.
Good luck on your next purchase, and check out our other guides for more recommendations.
Still have questions? Ask an HVAC expert directly via chat or phone.
Published on 2020-10-25 by Ben Travis
Last updated on 2021-08-03
---
Recommended Reading