The Best Garage and Shop Heaters | Buying Guide
One of the most challenging obstacles of working on projects during the cold season is keeping warm. Whether in your garage or shop, installing reliable heaters can make life much easier during cold seasons.
Although most tinkerers agree that space heaters can be a great solution, only a few know how to choose the most appropriate one for their needs. To do that, you'll need to prioritize features and compare the best units on the market.
In purchasing a garage or shop heater, you'll first need to decide what type you prefer. Options include radiant or infrared heaters, natural gas/kerosene/diesel heaters, and fan-forced ceramic heaters. Each has their own pros and cons, and you'll also want to understand the ongoing price of heating your space with electricity or fuel.
If you're curious about the optimal BTUs for your indoor space, check out our heating BTU calculator.
If you want to install an infrared heater in your garage, consider buying this one. The Dr. Heater brand is reliable one, and this heater is quite versatile. It also has an adjustable thermostat that works to regulate the heat output.
The DR966 has a high heat setting of 6,000 Watts and a low setting of 3,000 Watts. It is easy to install since you can hardwire it into the main electricity supply or fit a plug and connect it to a power outlet. The heater can also be mounted to a wall using its bracket. Its operation is also quiet, which means that it won't disrupt your work. You get a one-year warranty every time you buy Dr. Heater DR966 Electric Garage Heater.
Learn more about the Dr. Heater DR966 Electric Garage Heater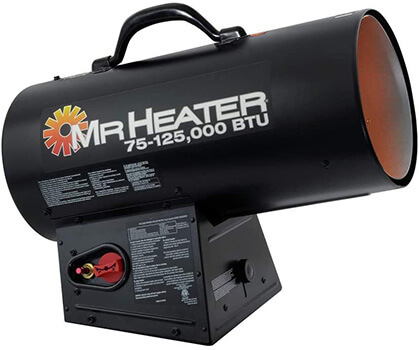 Need to bring in the big gun? The Mr. Heater F271390 delivers up to 125,000 BTUs and is surprisingly easy to operate.
As one of the top shop heaters in the market, this heater is designed to work in construction sites, patios, shops, and farming facilities, being able to heat up to 4,250 square feet. Its surprisingly small, but remember that you'll need to hook it up to a propane tank. You can also regulate heat via its internal thermostat.
Note that as with any propane-powered heater, follow all manufacturer guidelines, use with caution, and do not operate in enclosed spaces.
Learn more about the Mr. Heater F271390 Propane Heater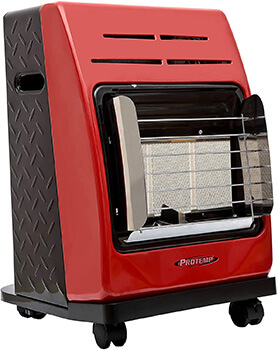 No electrical connection? Consider the Pro-Temp Cabinet Heater. It's a propane gas heater that uses a standard 20lb propane tank (similar to the one used in grills). This heater is directly linked to its fuel supply, meaning fewer cords to trip over. It's easy to move around a shop, with its four durable wheels and weighing in at 21 pounds. It won't get knocked over easily, and even if it does, its tip-over safety feature will automatically shut it off.
Use this heater to heat a garage, shop, construction site, or any other place where a portable, wheeled heater may be necessary. Note this Pro-Temp heater features three heat settings.
Learn more about the Pro-Temp Cabinet Heater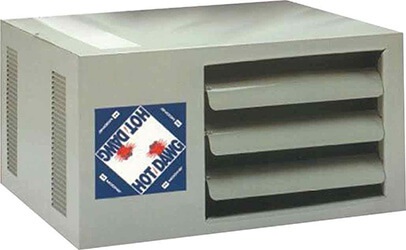 For a powerful heater that hooks up directly to your natural gas line, check out this Modine unit. Coming in at 45,000 BTUs, it heats up garage and shop spaces extremely quickly. While it isn't particularly portable, it is easy to install and mounts well in most locations.
If you're shopping for a quiet heater and don't want to have to worry about slower-heating electric models or lugging around propane tanks, this might be your top choice. It has a low-profile design and a neutral color that blends well with most interiors. It features a standard power exhaust, which makes it easy for sidewall or roof venting.
Learn more about the Modine HD45AS0111 Natural Gas Heater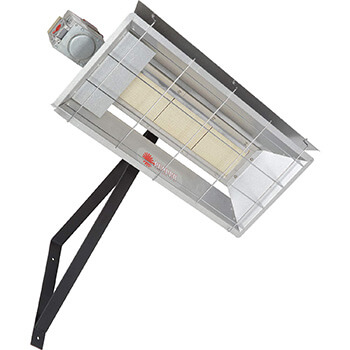 Another natural gas-powered heater, Enerco's Heatstar model can be mounted in areas as a fixed heat source. The Heatstar is a professional-level heater that can be installed on your ceiling for overhead heating. It features a thermostat that you can wire into your shop or garage and conveniently operate without having to reach the actual unit. At 25,000 BTUs, it's strong, though not as powerful as the Modine HD45AS0111.
Learn more about the Heatstar by Enerco F125444
Find the Right Garage and Shop Heater for You
We hope you found the above list of garage and shop heaters helpful. When purchasing a heater, make sure to consider factors like size, type, material, and controls to ensure you get one that best suits your needs.
Be sure to follow safety protocols recommended by the manufacturer, keeping heaters away from flammable items, turning off heaters before you leave a room, taking care of propane correctly, and plugging electric heaters directly into wall outlets instead of using extension cords.
Good luck on your next purchase, and check out our other guides for more recommendations.
Still have questions? Ask an HVAC expert directly via chat or phone.
Published on 2020-10-25 by Ben Travis
Last updated on 2021-08-03
---
Recommended Reading