The Best Energy Efficient Space Heaters | Buying Guide
When the weather cools, many people turn to space heaters as a solution to heat homes and offices. In our space heater research guide, we shared how space heaters work and the different types of heaters available to consumers. In this buyer's guide, we'll share the most energy efficient heaters.
For those preparing for those cold days ahead, it's common to look for a space heater. These can be excellent options, especially for buyers who prefer to heat specific indoor spaces and are looking to save money. Most space heaters are also highly portable, allowing users to stay warm while moving around a home or office.
That said, some space heaters can be run up your bills if you're not careful. That's why we've created a list of space heaters with a focus on energy efficiency.
Let's take a look!

Dyson has maintained a strong reputation for 30 years, and their AM09 fan heater is another example of their excellent engineering. Built with modern tech, this particular space heater was built with efficiency as a top priority.
It's a tall and narrow appliance that uses a special "Air Multiplier" method for improved airflow efficiency. It comes with a remote, sleep timer, and mutliple modes for different scenarios. It also serves as a cooling fan in the summer.
This Dyson fan heater comes in either an iron or blue color, both of which are rather modern in design. You'll find the control panel on the top display of the heater with easy-to-read options.
The AM09 is a bit pricey, but if you're looking for energy efficiency, it's extremely hard to beat. It's an investment, but you'll see savings on your monthly electric bills for years to come.
Learn more about the Dyson AM09 Fan Heater
Using both convection heat and radiant heat, micathermic heaters are noticeably thin and wide. They rapidly raise temperatures with a heating element covered in mica, an efficient heating mineral. Using metal coils inside of the mica to reach maximum temperature, micathermic heaters are cool to touch and low-noise, making them great low-profile solution for heating small and medium-sized rooms.
That's why the De'Longhi micathermic panel heater is an excellent choice for energy efficient heating. It's highly versatile, easily used as a portable space heater or converted into a wall-mounted heater. And its slim profile and choice of white or black allows it to fit into most areas nicely.
This model packs 1,500 watts of heating power in a compact design that also includes an adjustable thermostat. You'll be able to use two heat settings so that you can adjust it to your efficiency preference.
Learn more about the De'Longhi Micathermic Panel Heater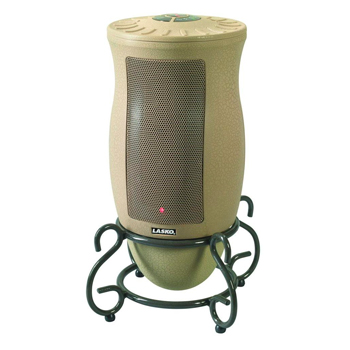 Are you hoping for an energy-efficient space heater that also keeps it chic? The Lasko 6435 Designer Series exudes style while performing admirably. This heater is ideal for heating small and medium spaces while providing a little something extra with its exterior. The design is so nice that you might even confuse it for an artistic home furnishing.
Its exterior pairs well with most room decor, and it comes with helpful features like a timer, multiple power levels, thermostat, and oscillating fan to increase efficiency. The rotating fan makes sure that airflow is maximized, and it's surprisingly quiet.
Learn more about the Lasko 6435 space heater here.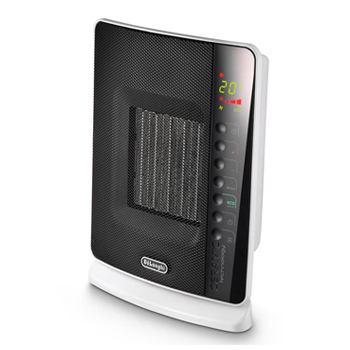 The DeLonghi DCH7093ER is a full-featured ceramic heater that packs a punch despite its small size. It offers an "ECO" setting to keep your energy bill down as well as an unobtrusive design.
This heater offers multiple heat settings, a touch control panel, an LCD display, a timer, a remote control, an oscillating fan, and more. WIth the right settings, you'll keep yourself warm while saving energy. Its "Safeheat" technology also mitigates the risk of this heater tipping over and overheating.
Learn more about the De'Longhi DCH7093ER Ceramic Compact Heater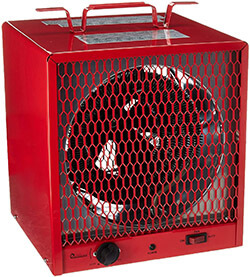 If you're looking for something that can deliver a LOT of heat efficiently, especially for garages and workspaces, the Dr. Infrared Heater DR-988A is strong choice. The Dr. Infrared Heater brand is well known for its quality products and consistently develops products with outstanding performance.
The DR-988A model features 4,800-5,600 watts in capacity and comes in a compact exterior. The finished design comes in a red color that works well in many working spaces.
It's built to warm large indoor areas and can be placed in most areas easily, coming with a strong carry handle. As a helpful safety features, the automatic shutoff kicks in when temperatures get too high.
Please note that this heater requires a 240 volt capacity and NEMA receptacle, not your typical indoor outlet!
Learn more about the Dr. Infrared Heater DR-988A Space Heater
Find the Right Space Heater for You
Space heaters can be a great heating solution for many situations and even reduce energy bills when used correctly. They come in a variety of models, so be sure to take into account your wants and needs before making a purchase.
Be sure to follow safety protocols recommended by the manufacturer, keeping heaters away from flammable items, turning off heaters before you leave a room, and plugging electric heaters directly into wall outlets instead of using extension cords.
Good luck on your next purchase, and be sure to check out our other guides for more recommendations.
Still have questions? Ask an HVAC expert directly via chat or phone.
Published on 2020-10-04 by Ben Travis
Last updated on 2021-02-08
---
Recommended Reading