The Best Personal Heaters | Buying Guide
Personal heaters are very small, portable space heaters that emit heat to a small area. They work very well at home or in offices when placed on desks or tables for individuals who need a small amount of direct heat.
They can also be a great way to save money and reduce energy usage, even allowing central heating systems to last longer. There are many types of space heaters, though personal heaters are a relatively new industry. When purchasing a personal heater, consider its size, style, and features.
Here are the best personal heaters currently on the market.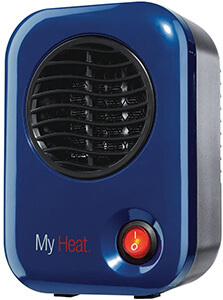 If you're looking for a compact personal heater for your home or office, the Lasko MyHeat is a great choice! This small heater has operates at 200 Watts and comes in a variety of colors. The MyHeat is small enough to fit in tight spaces and includes built-in safety features and a 3-year warranty.
At just 6 inches tall, it's a great choice for your desktop and can move with you easily. This device comes already assembled so it is ready for use as soon as it is unpackaged.
What's the verdict? Small but mighty!
Learn more about the Lasko MyHeat Personal Heater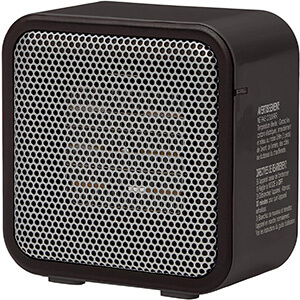 That's right, Amazon's own mini heater is a great solution for anyone looking for a simple personal heater. It uses 500 Watts, which is surprisingly powerful given its small frame. With ceramic coils, it works well in small spaces, and its simple design plus four different colors means you should be able to fit it in most spaces without much trouble. It works best for office spaces and dorm rooms.
This compact heating solution is a great modern design choice and effectively warms small spaces. It also includes standard safety designs like a sturdy base and tip-over protection. And it's pretty quiet, too!
Learn more about the AmazonBasics Personal Mini Heater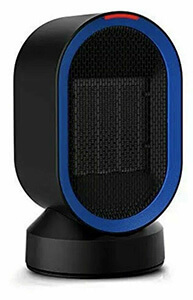 Even though it's a bit larger than most of the other heaters on this list, the toyuugo Portable Space Heater is highly effective as a personal heater and sports a chic design that fits modern aesthetics.
Using ceramic heating coils, it turns on immediately and efficiently directs warm air throughout small spaces with the help of an oscillating fan. This toyuugo model comes with standard overheating and tip-over protection and can also be used as a fan when the weather turns warm.
At just under two pounds, this is a serious personal heater contender!
Learn more about the toyuugo Portable Space Heater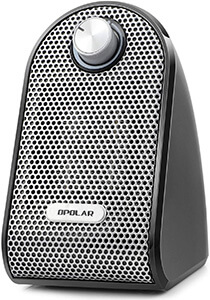 For those looking at more fun or retro options, the OPOLAR Personal Space Heater is a great choice. Operating at 500 Watts, this small heater comes in a metal grate housing with an adjustable knob thermostat.
Easy to carry around, it also shuts off after overheating or tipping over. This simple and quiet heater is unassuming but also a welcome addition to any small space in need of heating!
Learn more about the OPOLAR Personal Space Heater
Find the Right Space Heater for You
We hope you found the above list of personal heaters helpful. When purchasing a heater, make sure to consider factors like size, type, material, and controls to ensure you get one that best suits your needs.
Follow safety protocols recommended by the manufacturer, keeping heaters away from flammable items, turning off heaters before you leave a room, and plugging electric heaters directly into wall outlets instead of using extension cords.
Good luck on your next purchase, and check out our other guides for more recommendations.
Still have questions? Ask an HVAC expert directly via chat or phone.
Published on 2020-10-25 by Ben Travis
Last updated on 2021-08-03
---
Recommended Reading