Best Ventless Portable Air Conditioners and Air Coolers | Buying Guide
Staying cool during summer months isn't always easy. Central air conditioning can be a luxury, and people often turn to alternative solutions to beat the heat. However, the most popular ways to cool down often involve an annoying exhaust hose and can take up valuable real estate inside. It might also be necessary for different rooms to keep different temperatures.
So how do you get yourself a ventless portable air conditioner?
To start, you'll need to understand why portable air conditioners need a vent in the first place. We dive into this in detail in this article, but the short of it is that traditional air conditioners use a process that creates heat that truly needs to be vented.
That said, you can use Air Coolers in drier climates that rely on evaporative cooling to get great results with even less electricity than air conditioners! While not as powerful as traditional air conditioning, Air Coolers can be effective as personal cooling appliances or as a way to cool a tiny space within a room.
Best Air Coolers
To help you find the right air coolers, we've narrowed it down to our top choices. Feel free to check out our guide on swamp coolers and guide on small air conditioners, too!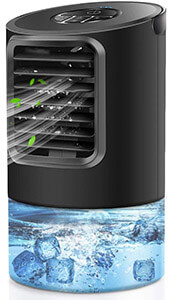 This personal air cooler is one of the most popular ones on the market and even comes with some fun light settings. At 8.9 inches tall, it's extremely compact and works better than a standard fan. It's also an energy-efficient solution that works well in dry climates and can humidify a small area.
This unit uses 400ml water reservoir to cool down areas through evaporative cooling. To make things even more efficient, add ice!
Features include multiple fan speeds, LED lights, and an "ultra-quiet" mode. Remember that you'll need to add water regularly. No exhaust hoses required!
Learn more about the AMEIKO Personal Air Cooler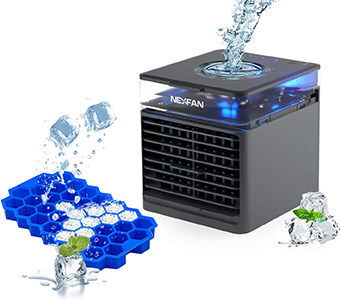 This NexFan air cooler is a chic take on personal cooling. With about 8 hours of continuous cooling, it an be a perfect office companion or quiet desk companion. Features include three fan speeds, mood lights, washable filter, and a USB charging port.
As a bonus, it comes with a silicone honeycomb shape ice cube mold!
Learn more about the NexFan Ultra Personal Air Cooler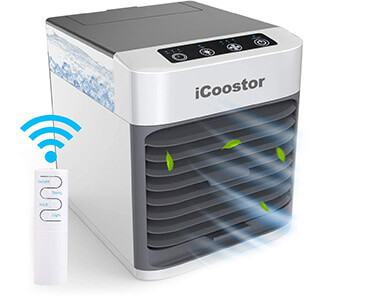 Small but effective. The iCoostor air cooler is a small unit that's convenient and easy to travel with. It's easy to operate and even comes with a remote control to make things even simpler. Like others on this list, it works best when combining water with ice.
Since this model uses a USB cable to operate, you're not limited to just using it in a house or office. You can use it a vehicle or camping…or pretty much anywhere as along as you bring a power bank (or laptop).
Learn more about the iCoostor Personal Space Air Cooler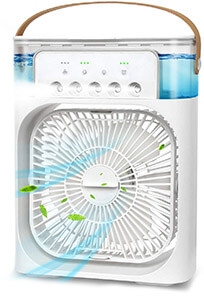 Think of this one as a power fan. This NTMY air cooler combines a fan and atomizing humidifier to create an evaporative cooler that keeps personal areas cool. It sprays a soft mist that's effective over one to four feet.
With a sleek design (including leather handle), low noise settings, color lights, and a timer, it has basic air cooler features to keep you comfortable. In addition, you can use it for aromatherapy.
The NTMY model works best for those who value convenience, portability, and humidification. With an ergonomic handle and USB charger, you can take it pretty much anywhere.
Learn more about the NTMY Portable Air Cooler
Good luck on your next purchase, and be sure to check out our other guides for more recommendations.
Published on 2020-08-16 by Ben Travis
Last updated on 2020-08-16
---
Recommended Reading