Top Casement and Sliding Window AC Units | Buying Guide
If you don't have central air conditioning, you can use traditional window units to effectively cool your space. However, most window air conditioners are difficult (or impossible) to fit into vertical or sliding casement windows.
If you use these kind of windows, you'll need specially-designed AC units. Fortunately there are plenty of solid options on the market, and we'll guide you through our favorites!
For some more context, casement and sliding window AC units are longer and taller than traditional window air conditioners. They're at least 20 inches tall and should come with the hardware to secure the units in your windows.
Before purchasing and installing a window AC unit for your sliding or casement windows, you should take into account:
The unit's cooling capacity - Larger rooms require a greater cooling capacity, which is identified by higher BTU (British Thermal Unit) numbers. To calculate the optimal BTUs for your space, use our BTU calculator for cooling.
Size - Measure the opening in your window to ensure that you buy an appropriate unit. Larger units may require a standalone outlet that provides more power than a single 110-volt outlet.
Weight - Heavier units can be more difficult to insert safely in your windows and might require professional installation.
Also, note that you can use a special window seal to adapt a portable air conditioner you may already own.
Now let's jump into recommendations: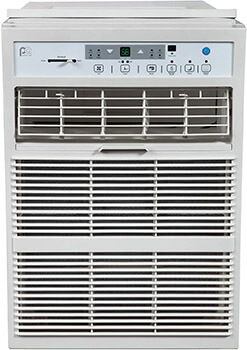 This PerfectAire model is well-suited for larger areas, up to 450 square feet. It's similar in size to the Frigidaire model, and the accompanying window mounting kit accommodates horizontal sliding or crank-out casement windows. Note that you'll be hard-pressed to find a unit with more than 10,000 BTUs, so this is pretty darn powerful.
With an impressive cooling capacity and three fan settings, it can also operate as a dehumidifier when the cooling function is turned off. The unit is lightweight, easy to install, and simple to clean, though it can be louder than other models as it ages.
Learn more about the PerfectAire 10,000 BTU Slider and Casement AC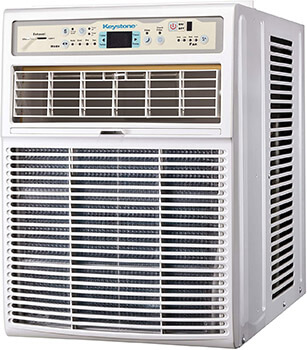 This is another air conditioner with plenty of power and also cools rooms up to 450 square feet. Similar to other models, it has three fan speeds and four-way air direction to help you stay comfortable no matter where you are indoors. Note that this model doesn't work for standard double hung windows.
The energy saver feature allows you to remain cool while minimizing the power usage. This can help you save energy and reduce power bills. You can further reduce your energy consumption using the programmable timer. Set it to cool when you're home and rest when you're not. The built-in humidifier removes 1.1 liters of moisture per hour, keeping your environment dry and reducing the risk of developing mold.
Learn more about the Keystone 10,000 BTU Slider and Casement Window AC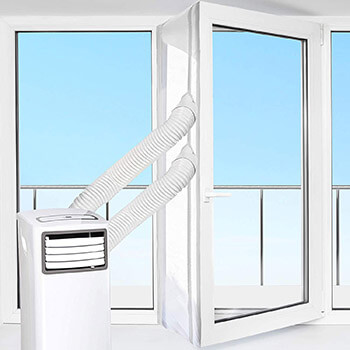 As mentioned this earlier, if you already own a portable air conditioner, you can use a universal window seal to create a closed environment for your air conditioner setup. These seals allow you to skip window kits and come with zippers for easy usage.
Learn more about the HOOMEE Universal Window Seal for Portable Air Conditioners
This air conditioning unit comes with an installation kit and remote for convenience. It cools up to 450 square feet and has four-way air direction to follow you around the room. Like the other units that we reviewed, this appliance has a sleep and auto-restart mode.
One of the best features is its washable filter. You won't have to pay for extra filters when you can clean it yourself.
Learn more about the Global Industrial 10,000 BTU Casement Window Air Conditioner
This 8,000 BTU air conditioner is strong enough to cool up to 350 square feet. Three fan speeds and four-way air direction control allow you customize the cooling. To make things even more convenient, a full-function remote allows you to control the appliance from anywhere in the room. Even if you're not using the remote control, you can easily adjust the temperature and settings on the simple interface.
The unit is 21.5 inches tall and 14.5 inches wide, making it ideal for narrow window openings. It only extends into the room 5 inches, which means it shouldn't get in the way. This unit won't interfere with your music-listening or television-watching activities, either. It operates quietly for the amount of power that it delivers.
Learn more about the Frigidaire FFRS0822S1 8,000 BTU Heavy-Duty Slider and Casement AC
Whether you're looking for an air conditioner for your home, office, shop or RV, you might need to find a unit that fits non-standard windows. These are excellent options for your sliding or casement windows.
Good luck on your next purchase, and be sure to check out our other guides for more recommendations.
Still have questions? Ask an HVAC expert directly via chat or phone.
Published on 2020-08-08 by Ben Travis
Last updated on 2021-04-04
---
Recommended Reading