Top Small Portable Air Conditioners | Buying Guide
Portable air conditioners are a popular way to stay cool indoors when the weather turns warm. They can be less expensive than central air conditioners, more practical than swamp coolers, and easier to install than window AC units or mini-split systems. They're also far more portable than other solutions.
However, some units take up valuable floor room. That's why we've assembled this guide of high-quality small portable AC units. By choosing the right unit, you could end up saving on both floor space and energy bills!
And if you're curious about the optimal BTUs needed to cool your own indoor space, use our cooling BTU calculator. Now on to the list: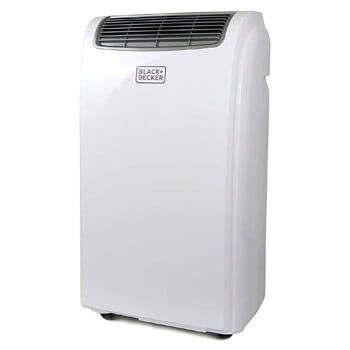 For tight spaces, the Black and Decker BPACT10WT is one of your best choices. It has a 5,500 BTU capacity and offers features like sleep mode, a 24-hour timer, and window adapter. Oh, and it comes with a remote, too!
The design is simple yet durable, and when the hot months kick in, you'll be able to take advantage of the vertical ventilation to cool rooms down faster than some other models.
Learn more about the Black and Decker BPACT10WT Portable Air Conditioner 5,500 BTUs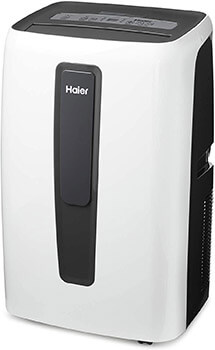 If you're looking for a smaller portable AC with a great design that can pack a punch, then the Haier HPC12XCR has you covered. With 12,000 BTUs, you can cool to 450 square feet. Note that it's on the heavier side for these smaller portable AC units (55 pounds), so the bottom wheels come in handy.
This Haier unit comes with a digital settings panel as well as a full-function remote. It boasts three cooling speeds, comes with a 6-foot power cord, and attaches to a 5-foot single exhaust. It has an average efficiency rating of EER 9.5, and its operating costs are affordable.
Learn more about the Haier HPC12XHR Portable Electronic Air Conditioner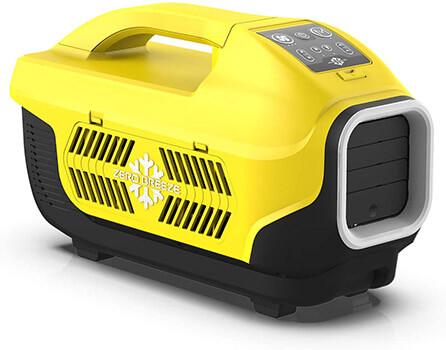 The Zero Breeze Portable Air Conditioner is a unique and efficient portable air conditioner. Specially designed for outdoor air conditioning, it's perfect for those enjoying spending time outdoors in mind (especially campers). You can even use it in your car!
It's easy to use as compared to other portable ACs, and you only need to press the "On" button to enjoy a cool breeze after charging. The advantage of this device over other portable ACs is that it makes use of rotary compressors. Rotary compressors enhance the cooling performance of the Zero Breeze.
With a cooling power of 2,300 BTUs, it's not the most powerful AC unit, but it's certainly the most portable. The upgraded Zero Breeze Mark 2model comes with a 24V, and after charging, it can keep you cool for 5 hours.
Learn more about the Zero Breeze Portable Air Conditioner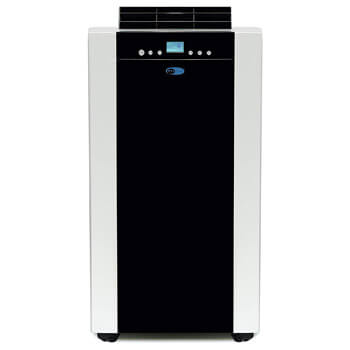 What makes this unit so appealing? Well, the first thing that should jump out at you is the BTU amount. Whichever type of AC unit you're looking at, the BTU metric is the most important. It measures the air conditioner's cooling power for your home.
In this case, the Whynter model delivers a whopping 14,000 BTUs. It comes with a dual hose feature along with three separate modes for convenience. These include air conditioner, dehumidifier, and fan.
Although portable AC units can be more expensive than your traditional window AC units, these alternatives can often be more efficient in cooling indoor areas like the bedroom or living room. This Whynter model can cool up to 500 square feet.
With the unit's portability, you'll be able to move it to any room quickly. You don't even have to worry about draining the unit on a regular basis because it also comes with an auto-drain function. You'll have control over the temperature settings with a programmable digital display and remote-control operation. Even though this unit is quite expensive at around $500, it's performance is hard to beat.
Learn more about the Whynter ARC-14S Portable AC Unit 14,000 BTU
Alright, so this one isn't technically an air conditioner, but it's extremely small and works better than a standard fan. This small unit uses water to cool down warm rooms, and by adding ice, you can make the air cooler feel like an air conditioner. You also won't need to worry about any exhaust hoses.
Features include multiple speed settings and LED lights. You'll need to add water consistently, but this portable air cooler is an affordable solution that can bring the temperature down a few degrees while also humidifying a small room.
Learn more about the Gamegie Portable Air Cooler
Make Your Air Conditioner Smart
You can make any air conditioner smart such as mini-splits, window, or portable units (that come with an IR remote control). Wi-Fi enabled controllers like the Cielo Breez AC controllers allow you to control your air conditioner using your phone. In addition to switching your AC on or off, these can change temperature and modes from anywhere, anytime. You can also equip your air conditioner with intelligent features!
Set weekly cooling/heating schedules and always wake up to the perfect temperature. With geofencing, your AC will automatically switch off as you leave your house, and with Comfy Mode, you'll be able to set ranges for a comfortable room environment.
Parting Thoughts
Good luck on your next purchase, and be sure to check out our other guides for more recommendations.
Still have questions? Ask an HVAC expert directly via chat or phone.
Published on 2020-07-29 by Ben Travis
Last updated on 2022-07-08
---
Recommended Reading