EnviroKlenz Air System Plus Review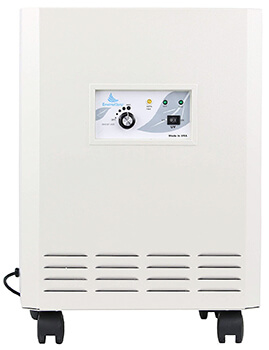 The EnviroKlenz Air System Plus stands out as a top-tier air purification system with extremely strong performance, well-suited for spaces that absolutely require high-quality indoor air.
It's easy to install and operate, but what really sets the Air System Plus apart is its innovate approach that combines multiple high-tech filters and UV-C light to guarantee exceptional air quality.
Buy on Amazon
$789.00
---
Description
The EnviroKlenz Air System Plus is built on powerful technology engineered to quickly and efficiently clean indoor air. Created by a US-based firm with a strong track record when it comes to air quality engineering, this model is best-suited for medium to larger indoor spaces that require very high levels of air quality. It excels in efficiently removing viruses, allergens, bacteria, and other particulate matter from indoor air.
This model covers spaces up to 1,000 square feet, making it useful for a variety of settings, from homes to businesses to classrooms.
Rating
Specifications
Manufacturer: EnviroKlenz
Price: $789.00
Dimensions: 15 x 15.5 x 22 in
Watts: 115
Weight: 39 lbs
Warranty: 5 years
Weighted User Rating: 4.8/5
Type: Air Purifier
Performance
The EnviroKlenz Air System Plus shines when it comes to performance. Built with a 3-pronged approach to air purification, you'll be hard-pressed to find a solution with same power for anywhere near its price point. It also cycles air at a rate of up to 250 cubic feet per minute (CFM).
This model intakes air on top, first pulling air through the proprietary EnviroKlenz air cartridge based on its NanoActive® technology. Then, air is sent to a chamber where it's exposed to UV-C light to clean it further, followed by a powerful HEPA filter. While we assembled the model, it was clear that the Air System Plus was engineered for top notch air quality.
EnviroKlenz's technology performs extremely well, and their testing is well-documented, especially when it comes to viruses and bacteria.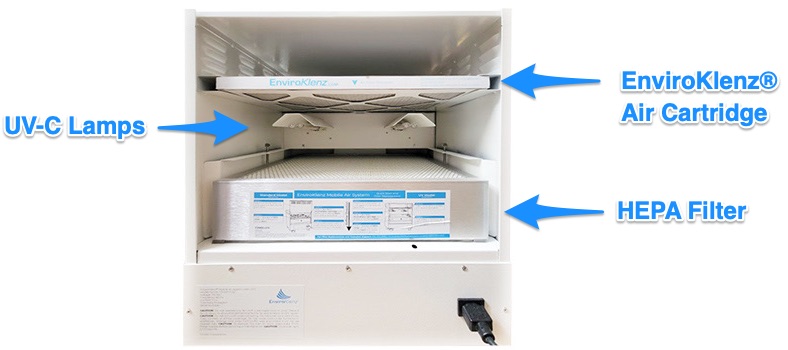 Features
While the Air System Plus model sports basic features and is very easy to operate, it doesn't boast a timer, remote, or other fancy features. That said, it's pretty much impossible to operate it incorrectly given the straightforward front panel.
Airflow in this air purifier is well-designed, with a special gasket for the HEPA filter that means dirty air won't have a chance to slip through. Replacing the filters and lamps is intuitive, as well. Enviroklenz even has a nifty Auto Refill Program that sends a replacement HEPA filter and UV-C lamps every 2 years and a new air cartridge every 6 months.
This Enviroklenz appliance is relatively quiet on the "Whisp-Air" setting, though it can get significantly louder and somewhat distracting on higher levels depending on your setting. It may blend in perfectly for a large room or office that can use white noise, but you probably wouldn't want it on running on high in a small bedroom.
Additionally, the device requires the back panel to be covered to avoid exposure to the UV-C lamps. However, the power trigger activated when the back panel is in place can be a little testy when moving the unit around, so you may need to lift the back panel and set it back down if it won't turn on.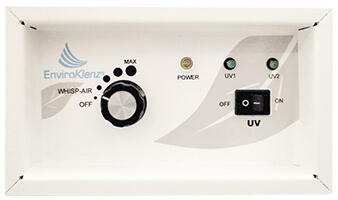 Safety
This model works well in many different settings, particularly large rooms at workplaces, schools, or homes and meets the usual appliance safety standards. Note that this model weighs 39 lbs, so while it's easy to roll around on flat surfaces, lifting may be more difficult for some folks.
While some air purifier buyers avoid models with UV lights due to ozone concerns, that isn't an issue with this model since Enviroklenz uses a wavelength of UV-C (254 nm) that's outside of the ozone-producing range.
Takeaways
Overall, the EnviroKlenz Air System Plus is an impressive appliance built for performance and durability. This engineering-forward model would make a great addition to any indoor space that requires high standards of indoor air quality. It works well in medium to larger areas to filter out unpleasant and dangerous air particles, including viruses and bacteria.
---
Other Recommended Reviews