Best Electric Fireplaces | Buying Guide
There's nothing quite like the warmth and crackling of a fire place to make spaces extra cozy, but traditional fireplaces aren't always a choice.
If that describes your situation, an electric fireplace might be just what you're looking for! An electric fireplace provides even, consistent heat while emitting a special winter ambiance that pairs nicely with existing indoor décor.
Electric fireplaces are space heaters generally designed to provide warmth through convection or infrared radiation, and they can often be more cost-efficient than other heating solutions. Some come with a glow-only setting that gives you a fireplace experience without needing to turn on heat. And on top of all that, you won't need to worry about fumes, dangerous gas, or cleaning up a mess.
Keep in mind that you'll have a few different options to choose from when it comes to electric fireplaces: wall-mount options, fireplace inserts, and standalone units. Here are the best electric fireplaces available on the market:

For those considering a modern, sleek wall-mounted electric fireplace, Touchstone's Sideline Elite series is an excellent choice. Specially designed for recessed mounting in walls. it enhances any room while radiating heat to keep you warm. It's surprisingly realistic and a strong array of custom visual options.
One of the main benefits of this electric fireplace is its feature versatility. Flame settings can be controlled by a smart device or light switch, it operates on either a 750 watt setting or 1,500 watt setting, and it can be plugged into an outlet or hardwired. It comes with a convenient remote control adjust the temperature as well as a built-in timer.
While it isn't cheap, this fireplace model is highly rated and excels in aesthetic and customization. The crystals, driftwood, and full log set emphasize the fire quality to create a cozy and calming experience.
Learn more about the Touchstone Sideline Elite Recessed Electric Fireplace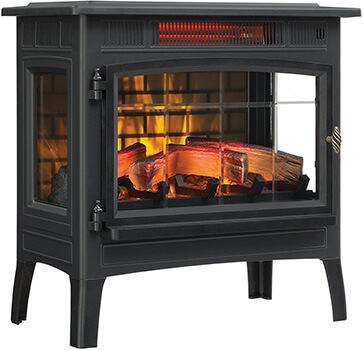 Designed in a more traditional fashion, Duraflame's DFI-5010 heater is a great choice for those who prefer a rustic touch to their indoor decor. Its high-tech realistic flames and outstanding heating capability makes it an easy favorite for those who are looking for a portable stand-alone unit. It also comes in six different colors to match existing furniture.
The DFI-5010 has a relatively low profile and makes great use of infrared technology, which uses radiant heating to warm areas instead of forced air convection. That means you won't dry out your rooms or build up unnecessary static electricity. There are many different materials used in infrared heaters, and this model uses quartz.
Learn more about the Duraflame 3D Infrared DFI-5010 Electric Fireplace Stove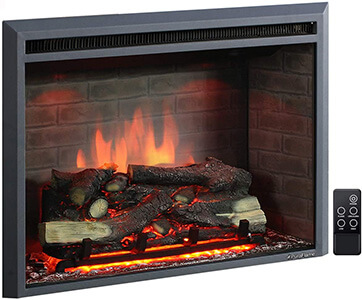 This life-like electric insert heater features LED technology and a crackling log sound. The three flame settings allow you to control the brightness and intensity of the unit to ensure you create the perfect experience every time.
The interior brick wall is three-sided and the glass front creates an authentic fireplace look without the hassle of worrying about ashes or dust. The adjustable thermostat is controlled by remote and allows you to heat a room up to 400 square foot. This fireplace is an great option for medium-sized living rooms, bedrooms, and small offices.
Learn more about the PuraFlame Western Electric Fireplace Insert Heater
Create a full fireplace effect in any room with this inviting electric fireplace design. It features three shelves and two bookcases that are located on both sides of the fireplace while the mantel provides plenty of spaces to display memorabilia or your favorite collection of books, photos, or figurines.
The realistic fireplace insert is controlled by remote and allows you to choose the heat and flame settings. The insert is capable of heating up to 400 square foot. It can be used in any room and can match most home décor with its black or white exterior options.
Learn more about the Ameriwood Home Lamont Mantel Fireplace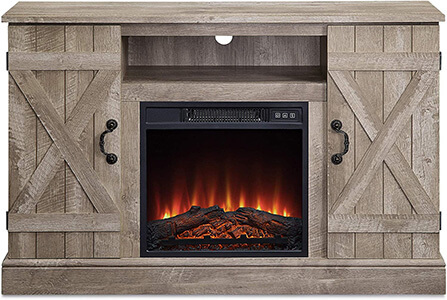 Want a more old-school look? This rustic Ashland pine infrared electric fireplace is made with high-grade manufactured wood and is optimal for zone heating. The "X" design resembles a barn door and brings an outdoor element to any room. There are also five different exterior options, so you'll have plenty to choose from.
The infrared heater is controlled by remote and provides a stunning flame effect that creates a cozy and warm environment. The top of the entertainment center holds televisions measuring 50" inches or less securely.
This fireplace is ideal for bedrooms, living rooms, and small offices that need a TV console. It looks great in kitchens too!
Learn more about the Belleze Entertainment Center Infrared Electric Fireplace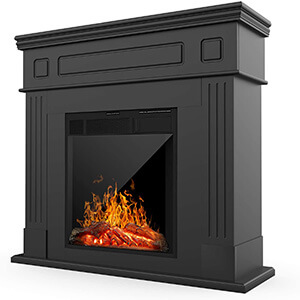 This beautiful electric fireplace features a traditional design meant to spruce up homes with its eye-catching mantel and cozy flames. With ETL approval and overheat protection, it's also a safe choice.
Its LED technology is impressive, and the flame effects make this piece of furniture a pleasant addition to most space. The brown or black color options are great accents to most homes, and this fireplace could easily becomes the focal point of a room while also warming things up.
Learn more about the KUPPET Electric Fireplace
When considering an electric fireplace, think about how you'll plan to use it. Do you need the fireplace for heat, home décor, or both? Many homeowners need an additional source of heat and invest in an electric fireplace to warm rooms that tend to remain cold even when the main heat source is running, while others prefer to add ambiance to the house during the winter months and the holiday season.
Also evaluate how a fireplace will look in your home. Electric wall mounted fireplaces look great in modern style homes and offices, while more traditional designs are suitable for rustic home décor.
Every model has a unique design and set of features, and you've got plenty of options to choose from! Good luck on your next purchase, and be sure to check out our other guides for more recommendations.
Still have questions? Ask an HVAC expert directly via chat or phone.
Published on 2020-10-05 by Ben Travis
Last updated on 2021-08-03
---
Recommended Reading