The Best Tower Heaters | Buying Guide
As colder weather looms on the horizon, it's time to think about getting your living spaces ready for chilly days and nights. One of the most effective ways to keep the chill out of your home without raising the temperature on your thermostat (or your energy costs) is to invest in a quality space heater.
Tower heaters are an excellent winter investment for helping to keep your electricity bills low and for eliminating those "cold spots" in your home. Tower heaters maximize the use of space while still providing maximum heating efficiency. Today's advances in portable heater technology have made tower heaters both viable and economical as solutions for keeping your home or business warm and comfortable. If you're considering adding portable heating to your home this winter, here is a list of the top tower heaters.

If you're looking for fast heating with constant and well-maintained temperatures, then the Pelonis PHTPU1501 Ceramic Tower Heater is your solution. This portable heater can heat up to 70 degrees in 3 seconds, so it's perfect for taking the chill out of most rooms in a short amount of time.
The oscillating feature allows for wide-spread heat dispersion throughout the room, and built-in safety features protect against overheating and tip-overs. The Pelonis PHTPU1501 also features remote control and a programmable thermostat with three heating options to help you manage energy consumption.
Learn more about the PELONIS PHTPU1501 Ceramic Tower Heater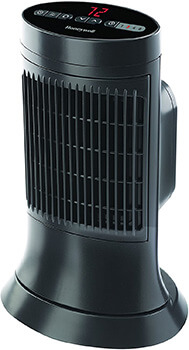 Honeywell has a long-standing reputation for creating high-quality tower heaters, and the Honeywell HCE311V Digital Ceramic Compact Tower Heater is no exception. This compact and budget-friendly tower heater oscillates for wide-area heating, making it an excellent choice for bedrooms, dens, basements rooms, and other small spaces requiring additional heating.
This slim unit also features 1, 2, 4, and 8-hour timer settings and two constant heat settings to maintaining warm and cozy areas. It also comes loaded with safety features to keep you safe.
Learn more about the Honeywell HCE311V Digital Ceramic Compact Tower Heater

One of the most essential features of a tower heater is how quiet it operates. The Lasko 755320 tower heater offers two quiet settings, making it ideal for bedroom use while sleeping.
An oscillation setting provides a wide dispersal of heat, making this unit a great choice for your home office and large living spaces. This unit also offers an adjustable thermostat so you can regulate the 1500 watt ceramic heating element to your climate needs, and a remote control gives you the convenience of a timer, oscillation, and heat control from a distance.
The Lasko 755320 also has built-in safety features such as overheat protection and a cool-touch exterior that keeps the surface cool even after hours of use, which is an important feature for families with young children or pets.
Learn more about the Lasko 755320 Ceramic Space Heater
Find the Right Space Heater for You
There are two common types of tower heaters: ceramic and oil-filled, and of these basic types, some can be bladeless, oscillating, or forced air. It pays to do your homework when searching for the best tower heater to suit your needs. Search for a heater that fits your budget, is energy efficient, meets your heating requirements, and meets your safety needs.
Tower heaters can make a lot of sense for many situations. While ceramic and other space heaters can use large amounts of electricity, they can help lower your energy bills by reducing or eliminating the use of your home's HVAC system to keep select rooms in your home warm and comfortable.
Be sure to follow safety protocols recommended by the manufacturer, keeping heaters away from flammable items, turning off heaters before you leave a room, and plugging electric heaters directly into wall outlets instead of using extension cords.
Good luck on your next purchase, and be sure to check out our other guides for more recommendations.
Still have questions? Ask an HVAC expert directly via chat or phone.
Published on 2020-10-12 by Ben Travis
Last updated on 2022-03-25
---
Recommended Reading