Avalon Premium Ceramic Heater Review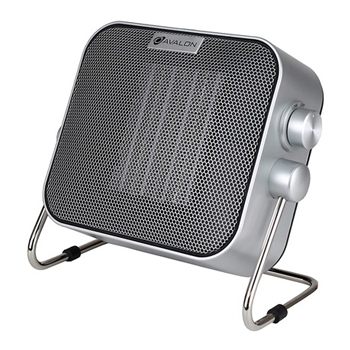 For those interested in ceramic heaters with a unique design that allows various angles, the Avalon Premium ceramic heater might just be a good fit. It's a lightweight appliance that can be used to heat small spaces in homes and offices. Since it can be placed on a floor or desk, is easily adjustable, and takes up little room, this is a very versatile heater. While it's not particularly powerful, it does have a very aesthetically-pleasing design that jive most any decor.
Buy Here
$30.00
---
Description
This heater is a small, light, and handsome solution for those looking to add some more heat to a small space. It includes two power settings (low and high), a fan, and an adjustable frame that allows up to 90 degrees of movement. Well-suited as an office desk heater, it's also only 3.2 pounds, making it highly portable.
Sporting a stylish exterior, the Avalon Premium ceramic heater doesn't attract much attention. It also comes with only basic features. Combined with its weak airflow and inconsistent performance, having a backup option might be a good idea.
Rating
Specifications
Manufacturer: Avalon
Price: $30.00
Dimensions: 10.3 x 9 x 6.3in
Watts: 1500
Weight: 3.2 lbs
Warranty: 1 year
Weighted User Rating: 3.5/5
Type: Ceramic
Performance
The Avalon Premium ceramic heater has two adjustable power settings available via a side dial: low (at 1000 watts) and high (at 1500 watts). Its fan release heat, though somewhat inconsistently, from the heating element to the surrounding air. As with most other ceramic heaters, its heating element automatically regulates power based on ambient temperature.
At times, airflow can be weak, and there's not much of a difference between its two power settings. It's also not as powerful as competitors, though it still works as a personal heater.
Features
The Avalon Premium ceramic heater comes with bare-bones features. It includes an adjustable frame, two heat settings, a fan, and self-regulating heating element.
While it works well in many rooms, the manufacturer recommends keeping it away from overly humid conditions and cleaning it every few weeks.
Safety
Created with overheat protection, this heater uses standard safety features, though doesn't come with a tip-over trigger. It's exterior can also get hot to touch quickly, so be sure to use caution when handling.
As with all heaters, be sure to give at least a foot or two of clearance between furniture, and never drape clothes or other flammable items on top of the heater.
Takeaways
Compared to other mid-sized ceramic heaters, the advantages to the Avalon Premium ceramic heater are its adjustable stand (allowing 90 degrees of vertical angling) and fashionable exterior. However, its shaky performance demotes it to a decent secondary home or office space heater option.
Luckily, it's simple to transport the appliance to any room, and the heater stores easily in the off-months. Due to the set of safety features and noise level, this heater is likely a good fit for an office or small home work area as opposed to an active room with family members or pets.