Della 1500-Watt Portable Infrared Space Cabinet Heater Review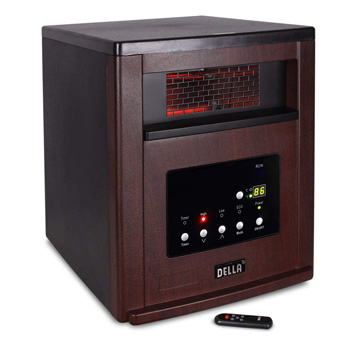 The Della 1500 Watts Portable Infrared Space Cabinet Heater is a medium-sized indoor heater that can quickly heat rooms up to 1000 square feet. The heater features durable infrared tube heating elements that provide healthy and efficient infrared heat to maintain the room temperature at desired heat setting.
Buy Here
$80.00
---
Description
This Della heater is an affordable yet powerful heater for consumers looking to heat an average room (but not a whole house). This heater is equipped with caster wheels, which offer great portability and makes it easy to move from one room to another. It also comes with a wireless remote to easily set the thermostat from afar. Working at 1500 Watts, this heater offers high efficiency, with high, low, and eco mode heat settings – each mode consuming a different amount of power.
Rating
Specifications
Manufacturer: Della
Price: $80.00
Dimensions: 20 x 17 x 21in
Watts: 1500
Weight: 25 lbs
Warranty: 1 year
Weighted User Rating: 4.6/5
Type: Infrared
Performance
With the use of high performance and durable infrared tube heating elements, the Della 1500 Watts Portable Infrared Cabinet Heater offers high efficiency and powerful heating. The heater can set different temperature zones around the heating area, which gives more customization to room setups. It contains a large LED display and easy-to-use buttons to set the required room temperature. This heater is capable of working at high, low, and eco mode.
Features
This heater offers a temperature range of 59 to 86 degrees Farenheit. The maximum power consumption is 1500 watts, but it also works at 500 watts when set to low heating mode. Zone heating options can be used to smartly direct heat in an area. Finally, the heater comes with a simple wireless remote control and a programmable 12 hour timer.
Safety
While the heater is designed to prevent the overheating of electrical components and it is installed inside a cabinet, the appliance can get quite wharm when continuously operated for a long time. It comes with standard heater safety protection like tip-over and overheat cut-offs. In case of frequent power fluctuation, the heater automatically shifts to the standby mode in order to prevent any potential hazard.
As a general safety precaution when using heaters, make sure to leave at least a foot or two of clearance between furniture, and never drape clothes or other flammable items on top of the heater.
Takeaways
This medium-sized, high efficiency infrared heater offers great flexibility for users who need to cool one or two average rooms. It's easy to use and comes with a large display panel, remote, and timer. The exterior is made of wood, and even though it can be a bit bulky, this Della heater fits well with other wood furniture and appliances. It's also very quiet and gives users a pretty decent range of efficiency settings, which could help save on energy bills over the winter.