Dr. Heater Infrared DR998 Heater Review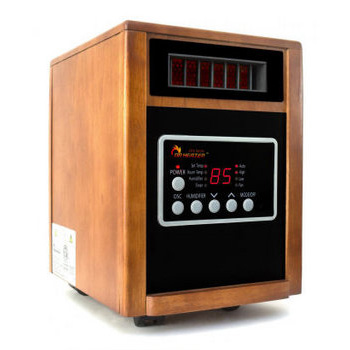 The Dr. Heater Infrared DR998 heater is one of the best heating solutions available in the market. It's an all-in-one solution that combines a heater, humidifier, air purifier, and an oscillating fan. As one of the best sellers in the market, this heater is a solid choice for anyone looking to buy an energy efficient heater capable of heating large rooms.
Buy Here
$140.00
---
Description
The Dr. Heater DR988 Infrared Heater is a workhorse that can make your home or office much more comfortable during the winter. It offers more than traditional heating, too! This heater has a built-in humidifier and air purifier, something most of its peers don't offer. The state-of-the-art infrared technology used by this heater helps to maintaining the room moisture by focusing heat to objects in the room. The built-in humidifier ensures that rooms won't dry out, and the oscillating fan evenly distributes heat to indoor spaces. This heater works at 1500 Watts with dual heating system, infrared quartz heating tube and PTC technology to keep it from overheating.
Rating
Specifications
Manufacturer: Dr. Heater
Price: $140.00
Dimensions: 16 x 11 x 16in
Watts: 1500
Weight: 24.8 lbs
Warranty: 3 years
Weighted User Rating: 4.0/5
Type: Infrared
Performance
Dr. Heater DR998 heater is a powerful and versatile appliance. Apart from its dual heating system, it offers its own humidifier to retain air moisture when spaces heat up. Because it's important to evenly heat rooms, it features an oscillating fan. Dr. Heater also provides a 3 year warranty for this durable heater.
Features
The DR998 infrared heater is capable of heating approximately 1000 square feet. It can be set at auto, high, or low settings. The heater features a digital thermostat with a temperature range of 50 to 86 degrees Farenheit. This model is designed for quick heating and comes with a quiet blower fan to regulate and maintain the heating process.
Safety
This heater is tested and certified by the Underwriters Laboratory USA, maintaining high standards of safety and security. All the heaters from Dr. Heater offer approximately 80,000 operating hours. The DR998 model features tip-over and overheating protection. For safety purposes, all heating elements are embedded inside the heater's metal cabinet to decrease risk.
As a general safety precaution when using heaters, make sure to leave at least a foot or two of clearance between furniture, and never drape clothes or other flammable items on top of the heater.
Takeaways
The Dr. Heater DR998 Infrared heater is one of the most popular infrared heaters on the market and has a rate of satisfaction due to its unique features, including the ultrasonic air humidifier, oscillating fan, and quartz tubing. These features combine to create a very warm and comfortable environment. The DR998 makes it easy to heat rooms, even ones with high ceilings. The heater is also fairly portable, weighing just under 25 lbs with castor wheels to help it roll around rooms if needed.
The heater offers a prominent design that may complement your existing interior design (or not) and offers great safety features. It can be a bit loud, but even after continuous operation over hours, it doesn't get too warm.
With its high performance and combination of humidifier and air purifier, this heater is a great choice for cold winter days.