Dr Infrared Heater Review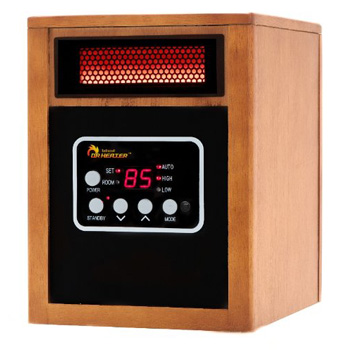 Dr. Heater's infrared portable heater is a portable yet heavy-duty solution that can quickly warm medium and large rooms. This heater features an advanced dual heating system including a high-efficiency blower, which enables it to heat indoor spaces at a faster rate than its competitors, setting the room at a comfortable temperature while also saving energy.
Buy Here
$115.00
---
Description
Dr. Heater's infrared portable heater uses infrared technology and advanced heating systems to heat evenly. The heater's automatic energy saving features cut down on heating costs, using low power consumption with higher heating capabilities. It's designed with high safety standards and can be used safely around children and pets. The castor wheels make it very easy to be carried around the room with minimal effort.
Rating
Specifications
Manufacturer: Dr. Heater
Price: $115.00
Dimensions: 13 x 11 x 16in
Watts: 1500
Weight: 23.5 lbs
Warranty: 3 years
Weighted User Rating: 4.2/5
Type: Infrared
Performance
The Dr. Heater Infrared heater heats rooms quickly by consuming minimal power. Working with 1500 watts, it offers automatic energy saving designs and sets the room temperature at a comfortable range by automatically setting the high and low temperature mode. The high-efficiency blower fan creates high volume of air, evenly spreading warm air while also staying relatively quiet. This heater offers great durability and should be able to run well up to 80,000 hours.
Features
Using three heating modes, users can customize their temperature settings. It operates at 1000 watts on the lowest setting and up to 1500 watts at the higher end. The embedded thermostat ranges between 50 to 80 degrees. Because the heater uses efficient infrared energy, you'll find fewer hot and cold spots in the room compared to ceramic or other heaters.
The IR remote appears to be a slight drawback of the heater. In order to use the remote, the heater must first be set to standby mode.
Safety
This heater is tested and certified by the Underwriters Laboratory USA, maintaining high standards of safety and security. All the heaters from Dr. Heater offer approximately 80,000 operating hours. The DR998 model features tip-over and overheating protection. For safety purposes, all heating elements are embedded inside the heater's metal cabinet to decrease risk.
As a general safety precaution when using heaters, make sure to leave at least a foot or two of clearance between furniture, and never drape clothes or other flammable items on top of the heater.
Takeaways
Dr. Heater Infrared Portable heater is a small powerhouse with impressive heating capabilities that heat areas up to 1,300 square feet. It can even be continuously run without being shut down for approximately two straight days. The look, design, and size of the heater make it well-suited for home use.
The heater offers a prominent design that may complement your existing interior design (or not) and offers great safety features. Note the Dr. Heater infrared portable heater blower operates at a noise level of 39 db. It can be a bit loud, but even after continuous operation over hours, it doesn't get too warm.