Holmes HCH159W Ceramic Space Heater Review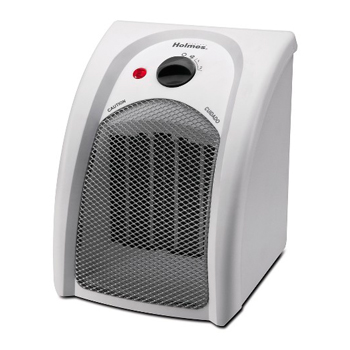 The Holmes HCH159W is a small and durable workhorse of a heater. Its lightweight body and solid performance make it a good fit for small home and office spaces. Heating rooms quickly, it'll keep users nice and toasty during cold months.
Buy Here
$25.00
---
Description
This heater combines a compact and portable design with powerful and reliable heating functionality. With a multitude of customization and safety features, it's easy to heat spaces that way you want. Its multiple power settings (including "fan only") make this ceramic heater well-suited for use in different locations, including offices. It takes up very little space, meaning it can be set or stored without sticking out.
Because of its design, air flows forward and slightly upward, meaning the HCH159W performs well on top of or under desks. It quickly warms up surrounding air but keeps temperature in check with adjustable power settings and overheat protection.
Rating
Specifications
Manufacturer: Holmes
Price: $25.00
Dimensions: 9.1 x 7.4 x 7.2in
Watts: 1500
Weight: 3.1 lbs
Warranty: 1 year
Weighted User Rating: 4.2/5
Type: Ceramic
Performance
With three power settings, it operates using 1000 watts on low and 1500 watts on high, with the "fan-only" setting using minimal electricity. This allows the Holmes HCH159W to be used in different spaces (working best in small rooms) during different times of the year with surprisingly admirable results given the heater's small size and low weight of just over three pounds. It heats rooms fast, usually in ten minutes or less, and has a relatively quiet fan compared to competitors.
Features
The Holmes compact ceramic heater does not include an adjustable thermostat but does provide output customization through its power settings.The "no-frills" nature of this heater means it's extremely simple to use, contains fewer components than the competition, and also produces fewer reliability problems. While it works well in many rooms, the manufacturer recommends keeping it away from overly humid conditions and cleaning it every few weeks.
Safety
With a "cool touch" exterior and overheat protection, the HCH159W uses standard ceramic heater safety features. While it doesn't contain a tip-over trigger, its design's wide base makes it very hard to tip over.
As with all heaters, be sure to give at least a foot or two of clearance between furniture, and never drape clothes or other flammable items on top of the heater.
Takeaways
Despite its size and sparse features, the Holmes HCH159W is one of the best values offered in the ceramic heater market. It's light, takes up little space, is durable, and can be easily transferred to different areas. Best used in smaller rooms, it can also be used in larger office settings to heat smaller spaces.
With two heat settings and a "fan-only" option, there aren't many power options, meaning it's simple to operate but doesn't contain the customization of some competitors. Additionally, it comes with overheat protection but no tip-over trigger. It can be helpful to purchase a cheap timer to use in tandem with the heater for more automation.
Overall, this Holmes heater is highly practical, powerful, and portable. With a reasonable price and solid performance, it competes well with nearly any other mid-sized ceramic heater.