Lasko 6405 Designer Series Ceramic Oscillating Heater Review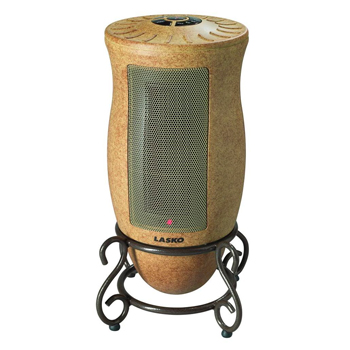 Exuding style and performance, the 6405 model is part of Lasko's "designer series" of heaters and will mesh with almost any decor. It comes with a myriad of features, including a timer, multiple power levels, thermostat, and oscillating fan. Since it arrives pre-assembled, it can be used right away.
Buy Here
$50.00
---
Description
Potentially the best-looking mid-sized ceramic heater, the Lasko 6405 is ideal for heating small and medium spaces without drawing too much attention. With its speckled finish and decorated base, visitors might just confuse the heater with a nice piece of pottery.
This heater includes many different features that help it stand out among competition. The rotating fan makes sure that air circulates efficiently and is surprisingly quiet. Note that this model is more or less the "little brother" of the Lasko 6435 model (which includes a remote).
Rating
Specifications
Manufacturer: Lasko
Price: $50.00
Dimensions: 7.7 x 7.2 x 16.2 in
Watts: 1500
Weight: 7 lbs
Warranty: 3 years
Weighted User Rating: 4.6/5
Type: Ceramic
Performance
Helpful for warming rooms and decreasing energy bills, the Lasko 6405 has two main heat settings (high at 1500 watts and low at 900 watts), and an oscillating fan. Because the fan rotates within a 90 degree range, this model is well-suited as a floor heater situated in room corners. Lasko recommends cleaning the appliance every few weeks and keeping it away from overly humid conditions.
Features
The Lasko 6405 includes many features to customize your heating experience. First, the adjustable thermostat that provides manual control of temperature. Second, there are two heat settings, high and low. Third, the timer can be set between 1-7 hours. Fourth, the oscillating fan can be turned off or on.
Safety
It doesn't come with a tip-over trigger, but this Lasko heater does have automatic overheat protection. This will shut off the unit before it becomes too warm, preventing wasted energy, and protecting your home or office many fire risks.
As a general safety precaution when using heaters, make sure to leave at least a foot or two of clearance between furniture, and never drape clothes or other flammable items on top of the heater.
Takeaways
Useful as a seasonal room heater, the Lasko 6405 stays cost effective while looking great. It's many convenient features make it a hard-to-beat solution once winter rolls around, and the combination of its quiet fan and sleek design are an impressive addition.
For those looking at heaters that they'll keep for a long time, this designer-series model mixes above average performance, with useful features and a modern aesthetic to create an outstanding heating solution.