Optimus H-7004 Portable Ceramic Heater with Thermostat Review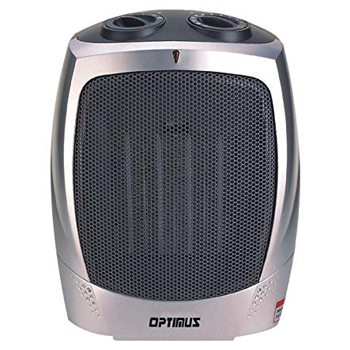 The Optimus H-7004 is a portable ceramic heater with an accompanying thermostat. Positioned as a petite and low-cost heating solution, it weighs only 3.5 pounds and is highly portable. It can easily be moved around the house and used on a variety of different surfaces.
Buy Here
$35.00
---
Description
This ceramic heater is powerful, though inconsistent at times. It works best in smaller rooms and is relatively inconspicuous. With two different heat settings consuming up to 1500 watts, it's able to quickly heat small spaces. The heater comes with standard features, including a tip-over trigger. While the H-7004 is competitively-priced and unobtrusive, its volatile performance and reliability may turn away those who can afford other options.
Rating
Specifications
Manufacturer: Optimus
Price: $35.00
Dimensions: 7.5 x 10 x 6.5in
Watts: 1500
Weight: 3.5 lbs
Warranty: 1 year
Weighted User Rating: 3.7/5
Type: Ceramic
Performance
The Optimus H-7004 is able to heat rooms quickly and efficiently. Although it's only 6.5 inches tall, it can operate using 1500 watts on its highest setting. If you don't mind a fan, it can be used while sleeping or during work.
While it keeps up with most competitors early on, units can become inconsistent and even stop working after. Paired with only one year of manufacturer warranty, durability doesn't appear to be this heater's strong suite. To keep the unit performing well, it's recommended to clean the appliance every few weeks and keep it away from overly humid conditions.
Features
This heater comes with a manually adjustable thermostat and multiple power settings: fan only, low, and high. The low setting uses only 750 watts, while the high setting uses 1500 watts. Because of its "fan only" setting, the unit can be used year-round as a normal fan, as well.
The Optimus is quite small, even compared to other heaters in its category, and can be moved from room to room with ease. It also comes with a power indication light to let users know when it's connected to a working electrical outlet.
Safety
Equipped with overheat protection and a tip-over trigger, this Optimus heater offers standard safety features that will keep it from staying on when the unit becomes too hot. Although it's equipped with features, units have been known to produce sparks when connections are loose or power varies.
As with all heaters, be sure to give at least a foot or two of clearance between furniture, and never drape clothes or other flammable items on top of the heater.
Takeaways
The Optimus H-7004 is a decent mid-sized ceramic heater (if inconsistent at times), available at a very low cost. It's light and compact, making it a good temporary option for areas that only intermittently need heat. Best suited for small rooms and mild climates, it can be stored away easily.
This heater comes with standard features and satisfactory temperature control. While the adjustable thermostat doesn't give precise measurements, it is intuitive and can be used right out of the box. It can be helpful to purchase a cheap timer to use in tandem with the heater for more automation.
Even though this model doesn't include an oscillating fan, the stationary fan can be used without heat, offering potentially more options for the appliance. The fan also isn't overly loud and shouldn't distract users as they're going about their day.
With average design and performance, it provides a decent value to those who can't afford other options.