Pelonis NT20-12D Ceramic Heater Review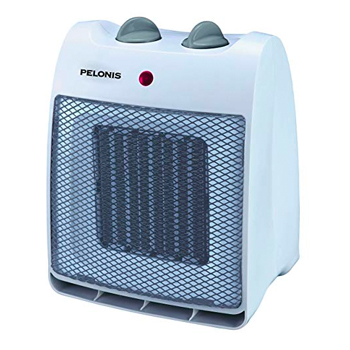 The Pelonis NT20-12D ceramic heater is a compact and highly affordable solution able to heat small rooms. Despite its small size, this model keeps heat flowing and comes with basic controls to manage the output. The simple design means it can be used right out of the box.
Buy Here
$25.00
---
Description
Controlled by a manual thermostat, this heater helps warm spaces during cold days and nights. It can use up to 1500 watts to keep an area warm and can also be used as a standard fan. Ideal for smaller areas like bathrooms, it can also work well on top of or underneath an office desk to keep feet from getting to chilly.
While it can be noisy at times, there are few other heaters offered at the same low price point. It's won't win any beauty pageants, but its size and surprising power make it a solid option for those who use it for short periods during the day.
Rating
Specifications
Manufacturer: Pelonis
Price: $25.00
Dimensions: 4.5 x 6.5 x 8.2in
Watts: 1500
Weight: 3.2 lbs
Warranty: 1 year
Weighted User Rating: 4.4/5
Type: Ceramic
Performance
The Pelonis NT20-12D heats smalls rooms quickly and can operate on two different heat levels: high and low, with a maximum power usage of 1500 watts. While it heats small areas easily, it likely won't heat medium to large-sized rooms as well. Since the fan is on the louder side, it may be useful to operate during the day when performing sound-sensitive activities. For optimum performance, clean the appliance every few weeks and keep it away from overly humid conditions.
Features
As with most mid-sized ceramic heaters, this model comes with an adjustable thermostat to control temperature. It offers three different power modes: high, low, and fan-only, which allow for use in all seasons.
Safety
The NT20-12D model has an overheat safety feature but no tip-over trigger. Since some units tend to vibrate when turned on, keeping it away from table or counter edges will decrease the risk of falling over.
As with all heaters, be sure to give at least a foot or two of clearance between furniture, and never drape clothes or other flammable items on top of the heater.
Takeaways
Providing 1500 watts of heating power in a compact heater isn't easy, but the Pelonis NT20-12D is a low-cost heater capable of heating most small rooms. Since it takes up minimal space and only weighs about 3 pounds, it's highly portable and can be stored without much effort.
This unit is relatively bare-bones but has many applications. If more customization is required, buyers should consider purchasing a timer to use in tandem with the heater.
Given the current safety features and fan noise, this unit may be best for homes without pets or in office spaces where white noise is permissible.
While the design is simple, this practical heater has little competition on price and can provide a high return (in the form of lower energy bills) when used correctly.
This Pelonis heater is a good solution for those who only need a simple heater for small rooms during short periods during the day.